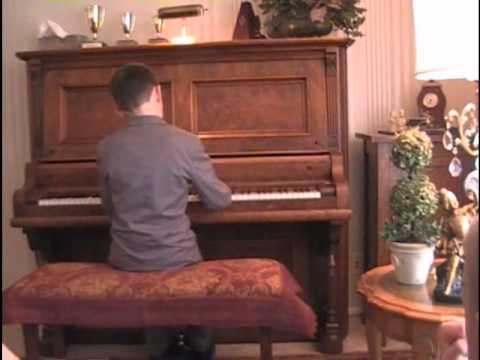 View 2 Items
Youtube

GROUSE CREEK, Box Elder County — Heston Warr's life was all laid out in front of him — take over the family farm one day, do what his dad and granddad did, and one day turn it all over to his kids.
But that's not what the 12-year-old has in mind. "I think it's really fun, and I think that it's really fun to hang out with my family," he said, "but I don't really like to do it."
What he really loves is playing the piano.
There are more cows than people in Grouse Creek and only 17 students attend the school. Children learn to ride horses at about the same time they learn to walk. But folks here live here for the family ranch lifestyle.
Heston was named after a tractor company. His mom, Heather Warr, explained, "It was what I saw behind me, the Hesston baler; the next field over was the Hesston swather cutting hay, and we decided on his name, Heston. Of course we thought he was going to be a rancher because that's what we are."
At first, Heston's fascination with piano and music took his parents by surprise.
"We thought, 'OK, you want to play the piano? You can keep asking because we don't even have a piano,'" Heather said.
His grandfather bought Heston his first piano — a little digital keyboard. At school, Heston had already mastered the recorder, then the ukulele.
"He knew the notes by name and would go invent his own songs and figure out songs to play and come back over the weekend to show us what he had figured out," said his teacher Cathe Runyan.
His parents took him to piano lessons 50 miles one-way over a dirt road to Oakley, Idaho. Then, they took him to a competition in Idaho.
"Out of 600 kids that played," Heather recalled, "he was one of 11 who was invited to come back."
That was last year. Heston had only been playing for 10 months at the time. He caught the attention of Utah State University piano professor Gary Amano, who now teaches him in Logan once every two weeks.
His family eventually bought him a baby grand piano. He averages five hours on the piano every day.
"I really do need to practice that much," Heston said. "I have that many pieces. I have this piece and this piece, and then it's just such an honor to play with the professor."
An even bigger honor came two weeks ago when Gov. Gary Herbert invited Heston to play at a reception at the state Capitol following the State of the State address.
"When I was waiting, my heart was in my throat. But when I actually got to it, I'm like, 'This is not bad,'" Heston said.
He wore a tuxedo with tails, so he could flip them over the piano bench. His family was there, cowboy hats and all.
His father, Kelly Warr, said, "It's one thing to go to the Capitol building and see the governor, but to actually be able to see your son play with the governor. … It was truly a once in a lifetime experience."
No one can figure out where Heston's talent comes from. His parents don't have any musical background. No one in Grouse Creek, where he's lived his whole life, really plays piano. It seems like it just happened.
"There's only one place it could come from," Kelly said. "It's definitely a gift from God."
Whatever it is, Heston is being called a piano prodigy. He wants to go to Utah State for an education, then Juilliard, then London's Royal College of Music.
But of course, in the back of his mind, there's the family ranch and how his parents were planning on him taking it over. Heston says he'll always feel a little guilty about it "because I know my dad wants me to take over the ranch someday, but it's not really what I want to do, and I know my brothers and sisters will want to."
Heston's parents say they're just fine with his piano playing. It took a little bit to get used to, but now they're proud of him and support him all the way.
"We can see that there's something that's a lot different," Kelly said. "But it's a good different, and we embrace it. We truly love Heston for this ability and for the great culture that he brought into our family."
Now Heston, who used to dress like a cowboy to fit in at school, can just focus on his music. Playing piano is where he feels he belongs.
"It's like a whole 'nother world," he said. "I just ignore everybody else and that's my main key to the performances. I think about the piano, focus on what's my next note, to think a note ahead, and I'm in a whole different world."
E-mail: acabrero@ksl.com Twitter: ksl_alexcabrero