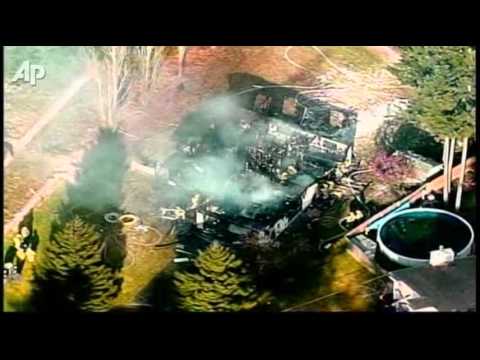 View 43 Items
YouTube

The Leach family, relatives of Josh Powell, released a statement. Read it here.
PUYALLUP, Wash — Before Sunday's fiery inferno even started, Elizabeth Griffin-Hall feared for the lives of young Charlie and Braden Powell.
She had just delivered the children to their father, Josh Powell, for a court-ordered three-hour supervised visit Sunday when he locked her out of his house
"Josh Powell will not let me in the door, what should I do?" she anxiously asks a 911 dispatcher. "I'm really shocked, and I can hear one of the kids crying. But he still wouldn't let me in."
Hall's call was one of several chilling 911 recordings released Tuesday night by the Pierce County Sheriff's Office regarding the fire Powell set at his home, killing him and his two boys. The tapes were among several new pieces of information about Josh Powell uncovered Tuesday.
In the 911 call, Hall anxiously asks the dispatcher how long it will take for police to arrive.
"They have to respond to emergency, life threatening situations first," the dispatcher responds.
"Well this could be life threatening. He went to court on Wednesday and he didn't get his kids back, and I'm afraid for their lives," Hall says.
She tells dispatchers the children got just a step ahead of her, and when she got to the door, he "shut it in my face. ... He looked right at me and closed the door."
Hall said she knocked and rang the doorbell several times and "begged him to let me in." She then got into her car and backed it out of the driveway because she could smell gasoline. She can be heard in the recording explaining that Powell was part of a high profile case. She said the children were inside the house for about 10 minutes.
Hall then made a second 911 call, apparently after the fire in the home began.
"There's two little boys in the house, they're 5 and 7, and there's an adult man. He has supervised visitation and he blew up the house and the kids," she said.
A spokesman for the Washington Department of Social and Health Services said the social worker was extremely distraught over the crime.
"By all accounts she's devastated. She's been working with and coming to love these kids over a period of months," Thomas Shapley said Tuesday. "She was very close to these two boys. And being in that close proximity was very devastating for her."
A meeting was held Tuesday for the department's peer support group to talk about the fears and concerns other social workers might have because of Sunday's tragic double murder-suicide, Shapley said. Everyone in the department was devastated over what happened.
"Children are our focus. We work so hard to protect children," he said. "We take it to heart."
Under state law, a Child Fatality Review will now be conducted by an independent panel. Shapley said his own department was studying case notes and files to learn as much as they could.
"We had been working with this case and doing supervised visits since the beginning of October. At no time was there any indication of threat to the children or suicide on his part," he said.
Another 911 call was also released Tuesday from a very upset Alina Powell, Josh Powell's sister. It's unclear exactly when it was made, but the call appears to have been placed before the fire.
Josh Powell left a voicemail for his sister about 20 minutes before the fire started. He said: "This is Josh. I'm calling to say goodbye. I'm not able to live without my sons, and I'm not able to go on anymore. I'm sorry to everyone I've hurt. Goodbye."
Alina Powell, who is crying throughout the 911 call, said she had been receiving "weird emails" from her brother.
"I think my brother might be in trouble or something," she said. "He said something about he can't live without his sons, and goodbye."
Alina struggled during the call to remember her brother's address, although she could describe how to get there. At one point, the dispatcher asks if she wants to drive to his house and look at the address, but she said no.
"Im terrified to drive over there," she said while crying. "I'm not afraid of him, he'd never hurt me. I'm afraid of seeing something I don't want to see."
Alina Powell told the dispatcher, who recognized Josh Powell's name, that there had been "a lot of abuse" against her brother and that the "abuse is extremely difficult."
She said she received several emails, possibly some starting before Sunday, about how to pay for his property and utilities. She said they "started awhile ago" and she didn't think anything much of them.
Outside the home of Steven Powell Tuesday, where Alina and brother Michael still live, reporters waited outside Tuesday hoping to talk to the family. As Alina Powell took her trash can to the curb, she walked briskly as she tried to avoid reporters' questions. When one reporter said he was "sorry for what you are going through," she responded: "No, you're not. You caused this," before slamming the door of her gate.
Earlier, she released a statement to ABC News, saying her brother and two nephews spent more than two years being "crushed alive by hate, harassment and abuse. None of us could have anticipated the devastating tragedy that took place Sunday. What this unimaginable loss shows is that hate will never end well. Hate kills."
Other 911 calls were placed Sunday by Josh Powell's attorney, Jeff Bassett, who said he had received an email at 12:05 p.m. from Josh simply saying, "I'm sorry, goodbye." He hadn't seen the message until sometime after the fire.
"That email gives me every indication this was intentional," he told the dispatcher.
At some point, another man who said Powell worked for him also called 911, saying he had received a similar email at 12:05 p.m. The same three-word email was also received by Powell's pastor, Tim Atkins, who met with Powell and the children.
The 911 tapes capped off a day of other revelations about Josh Powell and his possible involvement in the case of his missing wife, Susan Cox Powell, who disappeared in 2009.
Tuesday, a search warrant was served on a storage unit Powell had in Washington. Pierce County sheriff's investigators declined to release the address of the unit to keep the media away and would not say whether it was related to the investigation of Susan Powell. Nor did they immediately release what, if anything, was found.
Another Washington state search warrant obtained by The Associated Press through a public records request indicates that police were investigating three felonies in Utah relating to Susan Powell's disappearance: murder, kidnapping and obstructing a public servant.
Salt Lake County District Attorney Sim Gill acknowledged for the first time that they believe Susan Powell is likely dead. He said that while the case points  to her demise, it remains a missing persons probe for now.
The search warrant, filed in Pierce County Superior Court on Sept. 1, was for a laptop computer, photographs and video of the inside and outside of the home, and "documents demonstrating dominion and control."
Josh Powell, who has long been called a person of interest in his wife's disappearance, attacked his two young sons Sunday with a hatchet before igniting the gasoline he'd spread throughout his Graham, Wash., home. An autopsy revealed that all three died from carbon monoxide poisoning.
The grandparents of Charlie, 7, and his 5-year-old brother Braden announced that a funeral for the two boys will be held Saturday at The Church of Jesus Christ of Latter-day Saints meetinghouse at 13420 94th Ave. E in Puyallup. A private family interment will follow at Woodbine Cemetery.
For months, Josh Powell and his father-in-law Chuck Cox had been locked in a bitter feud over custody of the two boys. Monday, Cox's attorney filed a motion in court to make sure the family had the legal right to make funeral arrangements for the boys, according to West Valley police. The motion was granted.
Chuck Cox reacted Tuesday to the news that a hatchet was recovered by police from the charred rubble of Powell's rented home.
"I thought, 'Well maybe he didn't want them to suffer.' I mean, what's worse? Hitting your child, hitting them with a blunt object or burning them up in a fire? Which way is worse? I don't know. I think both ways, you're taking an innocent life for no reason," he said.
"There's just no logical reason for him to take their lives other than just out of plain evil. I think that's probably the best description, just evil."
It was a sentiment shared by West Valley Police Chief Thayne "Buzz" Nielsen.
"It was evil. It was just a terrible thing," he said Tuesday.
Nielsen and some of his detectives remained in Washington Tuesday to meet with Pierce County sheriff's investigators. His department's priority right now, he said, is the Cox family. But he also noted that "Susan still needs her day."
"We still have a criminal case that's active," he reiterated. "We still need to focus on getting some closure on what happened to Susan."
Since Sunday's double murder-suicide, Nielsen said his department has received additional emails and other tips that could spark potential new leads in the case.
Asked whether Steven Powell, Josh Powell's father, is considered a person of interest in the case, Nielsen said his detectives are interested in him because he may have information that would help them in their case concerning Susan Powell's disappearance.
"Yeah we want to talk to him. We probably want to talk to him because of this, because they lived together in the house. There should be things he'd probably like to talk to us about, we hope," he said.
But the chief also noted that there were two or three other persons of interest, or people who detectives want to talk to, including other family members and friends. That does not necessarily mean they are suspects in the Utah woman's disappearance, he said.
Nielsen also noted that contrary to what some of Powell's family members might be stating, it was not the media or pressure from the public or police that caused the deaths of the children.
"I don't relate to any of that rationale," he said. "For him to feel pressure or for someone to shift the blame on his action is totally inappropriate. I mean, that whole line of rational thinking, in law enforcement, that would mean we would never do our job. That's pretty foolish."
The chief acknowledged that the public would like the case solved sooner than later. He emphasized that the effort his department has put into the Susan Powell case is "substantial."
"Believe you me, if we could have arrested him, we would have arrested him," he said of Josh Powell.
But the goal of law enforcement is not to arrest the wrong people and to get the facts right, Nielsen said. Part of the reason the investigation was still continuing was to make sure there aren't multiple people involved in Susan Powell's disappearance. He remains optimistic that the case can be solved this year.
"We have a threshold that we want to reach on circumstantial evidence. Obviously without a body that threshold rises, and we're not to that threshold yet," he said. "If all the evidence led to Josh and nobody else, then so be it. But we would be able to answer the thousand questions of who, what, where and when."
A prosecutor with the Pierce County Attorney's Office was more direct Tuesday.
"If there was any doubt about who murdered Susan Powell, it's gone now," Mark Lindquist said.
E-mail: preavy@desnews.com
Twitter: DNewsCrimeTeam