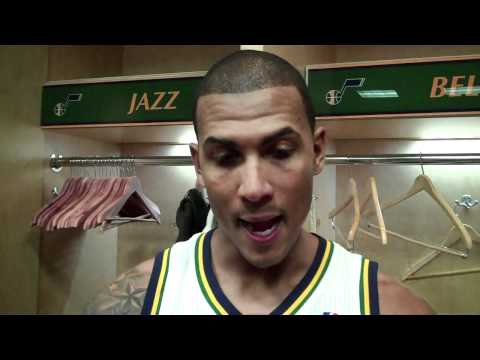 View 28 Items
Brandon Brown

SALT LAKE CITY — Hidden behind the drama that has hung in the air the past 48 hours was a basketball game Saturday evening pitting the Utah Jazz against the Los Angeles Lakers. And in fitting fashion, there was plenty of drama found therein. While Utah lost the first two games against LA this season, the tables were turned in a physical, hard-nosed game, with the Jazz emerging victorious, 96-87.
In yet another balanced performance, Utah received an extra boost in the arm as recently injured guards Devin Harris, Raja Bell, and Earl Watson all returned to bolster coach Tyrone Corbin's rotation. The stalwart duo of Al Jefferson (18 points, 13 rebounds) and Paul Millsap (16 points, 13 caroms) both recorded double-doubles.
The Lakers were led by their tremendous trio of Kobe Bryant (26 points), Pau Gasol (24 points, 16 boards), and Andrew Bynum (21 points, 12 rebounds). But they received very little from the rest of the roster.
Utah moved to 13-9 on the season.
Bench: A familiar storyline cropped up again, and the Utah Jazz bench came ready to play. Going against one of the weaker benches in the NBA, Utah's reserves outscored its Laker counterparts, 49-12. It was a balanced effort off the pine, spurred on by a brilliant floor performance by point guard Earl Watson. After missing Thursday's game in Golden State, Watson received special treatment in Los Angeles and made a quick return to the line-up. He pushed the pace and his teammates were the recipients of his precise passing and emotional leadership in the fourth quarter. Watson finished with a season-high 11 assists as well as eight points.
Derrick Favors' spirited performance was also huge. Going against All-Star Andrew Bynum, Favors held his own on both ends of the court. He challenged him on defense, crashed the boards, and made some nifty moves on his way to 12 points and eight rebounds. Fellow big man Enes Kanter was also extremely productive, adding 10 points and six caroms of his own. His offensive confidence continues to grow and his presence defensively was felt.
Josh Howard showed his versatility and gritty toughness en route to 12 points and five rebounds. CJ Miles, although quieter than his recent performances, made some integral plays down the stretch.
Emotions: In a game that carried its requisite intensity and no love lost, things amped up when Lakers head coach Mike Brown, upset at what he felt was a foul by Watson on Gasol, was ejected. Not only did he get tagged with two technicals and the expulsion, it appears he made contact with a referee. Not only fines, but a suspension, could ensue. Los Angeles assistant coach John Kuester kept things going, earned a technical foul himself as he filled in for Brown.
These key plays shifted the momentum clearly in Utah's favor as the Jazz went on a energetic, lively run, with its biggest lead being 15 points. While Bryant made it interesting with his three-point shooting down the stretch, the gap never closed to more than six points.
David Smith is providing instant analysis for Deseret News' Utah Jazz coverage this season. He works for LDS Philanthropies and also blogs for the Utah Jazz 360 website. He can be reached at mechakucha1@gmail.com or on Twitter at davidjsmith1232.