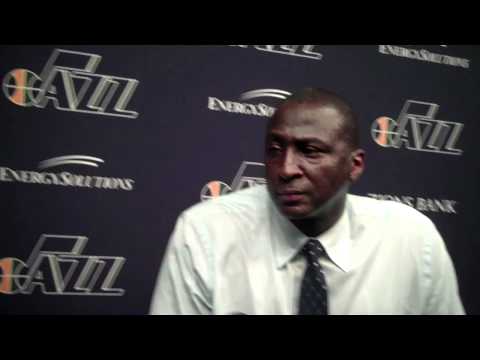 Brandon Brown, Deseret News
While there was certainly a dominant storyline associated with Saturday night's Utah Jazz-Sacramento Kings matchup, there was also an actual basketball game being played. Overshadowed by Jimmer Fredette's return to Utah was a nail-biter of a contest, with the Jazz edging the Kings 96-93.
While regular scoring leaders Paul Millsap and Al Jefferson struggled, swingmen Gordon Hayward and C.J. Miles responded with 21 and 20 points, respectively. The Kings were paced by a slicing-and-dicing Tyreke Evans' 31 points and nine assists.
Jimmer's return: The mania lives on. The reaction to former BYU All-American Jimmer Fredette's EnergySolutions Arena debut was interesting, to say the least. Drawing a bizarre mixture of cheering and booing, Fredette's return unsurprisingly came with heavy hype. While on the losing side of things, he had his moments, both good and bad.
Fredette started out slowly and appeared a little overwhelmed in the first quarter, going only 1-5 from the field with a pair of turnovers. But things went his way in the second quarter, as he notched 10 points by halftime. In his return to Utah, Fredette finished with a nice game: points and steals. He did tally turnovers and was overpowered on defense several times, with various Jazzmen posting up on him. His air ball on Sacramento's final play also took the air out of the Kings' chance of stealing one on the road.
The oddest moment of the evening was some of the ESA crowd chanting "We want Jimmer" in the closing moments of a tight game and then booing when he was taken out.
Hayward's return: Another player made famous by the NCAA spotlight, Gordon Hayward, also enjoyed a nice breakout game. Showing an aggressiveness that has been noticeably absent recently, Hayward put forth a complete game. He scored a team-high 21 points, while recording five rebounds, four assists and two steals.
More importantly, Hayward was not hesitant to shoot. Throughout the night, he knew when to shoot and when to dish the ball. While he had a few struggles defensively, this was a game the Jazz coaching staff and fans hope will be the start to some more consistent play.
Bench's return: After some subpar performances of late, Tyrone Corbin welcomed back his bench Saturday night. Led by Miles' 20, the bench was back up to the normal output with 45 points. Miles was a solid 8-13 from the field, including many key forays to the hoop. Derrick Favors played with great energy and attitude, finishing with eight points and five rebounds. Alec Burks, earning time in wake of Raja Bell's injury, was also lively with eight points in just nine minutes, including two smooth 3-pointers.
Conversely, the Sacramento bench struggled mightily. In 70 combined minutes of play time, the Kings reserves managed just 13 points — all by sparkplug rookie Isaiah Thomas.
Random notes:
Millsap and Jefferson were held to just 18 points, half of the 35.9 points per game they were averaging coming into the contest.

The Jazz won the hustle categories with 10 blocked shots and nine steals.
Josh Howard is now 3-16 since his return from injury.
David Smith is providing instant analysis for Deseret News' Utah Jazz coverage this season. He works for LDS Philanthropies and also blogs for the Utah Jazz 360 website. He can be reached at [email protected] or on Twitter at davidjsmith1232.