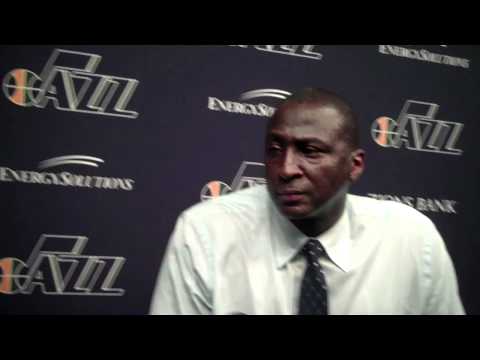 View 40 Items
Brandon Brown, Deseret News

SALT LAKE CITY — The scene was set for a perfect Jimmertime ending for the Kings.
Down by two with the ball late in the game, Jimmer Fredette ended with the ball in his hands behind the 3-point line.
The crowd gasped, Fredette unleashed a wide-open shot and ... airball.
Not the kind of airtime the former BYU standout — nor his many fans in attendance — hoped for. It turned out fine for the home team, though, as the Utah Jazz escaped with a 96-93 win over the Sacramento Kings.
Fredette ended up scoring 14 points in his Utah NBA debut.
But it was the Jazz's Gordon Hayward and C.J. Miles who stole his thunder and saved the day for the Jazz on offnight for usually reliable Paul Millsap and Al Jefferson.
Hayward led Utah with 21 points and Miles scored 20 points off the bench, playing extended minutes and starting the second half after Raja Bell strained his right adductor.
Millsap was a monster on the boards with 14 boards but only scored six points on 2-for-10 shooting. Jefferson had 12 points but missed 8 of 13 shots.
Tyreke Evans led all scorers with 31 points for the Kings, who also got 14 apiece from Fredette, DeMarcus Cousins and Jason Thompson.
Utah had a 13-point lead until reserve guard Isaiah Thomas, the smallest man on the court, went off for 13 points in the fourth to bring the Kings back.
The win snapped a two-game losing streak for Utah, which improved to 11-7. The Kings dropped their fourth straight, falling to 6-14.
The Jazz host Portland on Monday.
TWITTER: DJJazzyJody