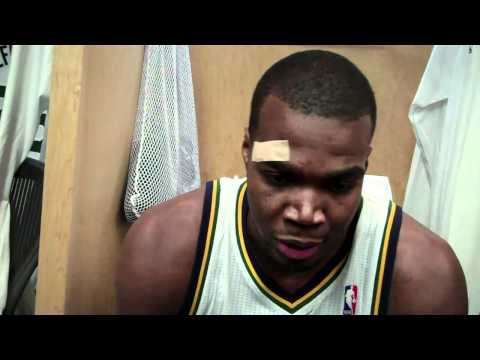 View 18 Items
Brandon Brown, Deseret News

The Utah Jazz will look back at Wednesday's game as the proverbial one that got away. What should have been a blowout victory ended up being a nail-biting, double-overtime loss as the Raptors did just enough to earn a hard-fought 111-106 win.
There were a lot of heroics throughout by both squads. Jose Calderon and Linas Kleiza nailed some improbable three-pointers for Toronto, while Paul Millsap was clutch down the final stretch.
Kleiza and Andrea Bargnani paced the Raptors with 25 points apiece, while Millsap accounted for 31 points. Derrick Favors got the start for an injured Al Jefferson and answered with 16 points and 12 rebounds.
Drought: What is worse over a 14-minute span: allowing your opponent to put up 36 points or struggling to score 18 points of your own? Unfortunately for the Jazz, both happened against Toronto in the first half.
After a torrid start by the Jazz, things took a complete turnaround as Toronto's offense responded. Thanks to an assortment of acrobatic lay-ups and perimeter jumpers, the Raptors gained momentum to knot the game at halftime, 50-50. It was obviously a close game from that point forward.
Devin Harris: Entering the Toronto game, point guard Devin Harris was sitting at just 8.1 points per game— his lowest average since his rookie campaign. Likewise, his 4.5 assists per outing is his lowest output since his third year. And after averaging 15.8 points per game last season in a Jazz uniform, he only scored double figures in six of the first 15 games this year. On top of it all, some national media types have mentioned his name in trade rumors.
For all these reasons, Wednesday night was huge for Harris. It started with a quick drive to the hoop for the firsty score of the night, something that set the tone for his evening. He propelled the Jazz to a big early lead thanks to 12 points and four assists in the first nine minutes. He did a fine job creating things, either for himself or for his teammates.
3
comments on this story
While his missed free throws in overtime hurt, his 24 points and six assists helped give the Jazz a chance to win.
Rotations: Tonight was a good example of how injuries can affect rotations. With Jefferson sitting out, Favors was removed from the potent bench that has been a shining positive for Utah thus far. While he did well, missing his contributions off the pine was noticeable.
Likewise, Utah welcomed back Josh Howard from a four-game hiatus which also had ripple effects on the Jazz swingmen. CJ Miles still managed to see 21 minutes of playing time, but rookie Alec Burks made just a two-minute cameo.
David Smith is providing instant analysis for Deseret News' Utah Jazz coverage this season. He works for LDS Philanthropies and also blogs for the Utah Jazz 360 website. He can be reached at mechakucha1@gmail.com or on Twitter at davidjsmith1232.