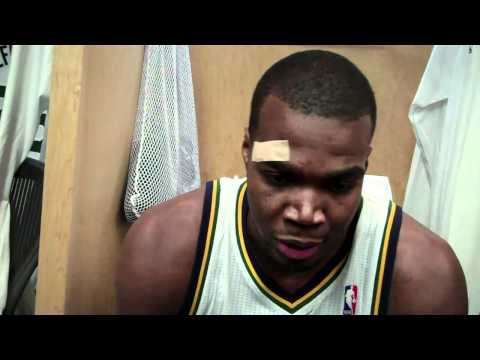 View 18 Items
Brandon Brown, Deseret News

It's a little frustrating, but what can you do about it?

—Forward Paul Millsap
SALT LAKE CITY — Because of an injury, Al Jefferson missed the Utah Jazz's game against the best basketball team from Canada on Wednesday night.
The Jazz missed him, too.
But he wasn't the only thing they missed, eh.
While becoming the Toronto Raptors' sixth victim, the Jazz missed Big Al's inside presence along with a lot of field goals, free throws, their usual spark off the bench, timely defensive stops and clutch offensive execution when it counted most.
That all led to the biggest miss of the night for the Jazz, who blew an opportunity to beat a beatable team at home and instead suffered a tough-to-digest 111-106 double-overtime loss to the Raptors.
Toronto got strong 25-point performances from Andrea Bargnani and old Jazz-killer Linas Kleiza and a 29-foot answered prayer from Jose Calderon during a decisive 7-0 spurt in the second overtime to improve to 6-13.
The Jazz, coming off of three days' rest, dropped to 10-6 with their second home loss in three games. Considering their opponent played in Phoenix the previous night, winning 99-96, and had lost eight of nine games this season and 11 straight to Utah overall, and trailed by 18 points in the first half, this was their worst defeat of an otherwise pleasantly surprising season.
"It's a tough loss for us," Jazz power forward Paul Millsap said, "because we know we should have won the game."
It was especially tough for Millsap.
With a bandage above his eye and frustration showing on his face, Millsap looked like a fighter who'd gone through and lost 12-rounder in the locker room after the 58-minute tussle with Toronto's bigs.
Millsap banged and battled his way to a game-high 31 points with 11 rebounds, and he had to earn all of his buckets against an inspired defense that sagged down on him, even showing zone at times.
Derrick Favors chipped in 16 points and 12 rebounds in Jefferson's place. That helped some, but the Jazz's poor outside shooting (4-for-22 from 3-point range) only made life more miserable for Utah's post players against the likes of Toronto's 7-foot Bargnani, 6-9 Amir Johnson, 6-8 Kleiza and especially 6-9 James Johnson (six blocks).
This was a night the Jazz could've definitely used Jefferson's size and scoring skills inside. Instead, Big Al was on the bench sporting a walking boot on his right foot because his ankle became inflamed again during the morning shootaround.
"He's a little bit more experienced against the zone," Jazz coach Tyrone Corbin said. "He and Paul read each other very well. Enes (Kanter) and Derrick are not as experienced with it. They tend to stand a little bit more than move. Because it's the zone, they want to wait and wait and wait."
Millsap gave the Jazz new life at the end of the first overtime when — moments after making a bad pass — he sank a 3-pointer with 3.0 remaining in front of Toronto's bench to help force an extra, extra session.
"I just created a little space (and) put the ball up to the basket and see," he said. "If it goes in, it goes in."
It did, but the Jazz weren't able to keep that momentum in the second overtime very long.
Jazz point guard Devin Harris scored a season-high 24 points, but he also missed four of his six freebies in the second overtime.
The biggest blow, though, came when Calderon heaved up a desperation 3-pointer from several feet beyond the arc after the Jazz defense had stifled Toronto for 23-plus seconds. His long swish put the Raptors up 109-103 despite the Jazz trying to force them to go inside.
"Calderon came across and somehow got open and made a tough shot," Corbin said.
Calderon also hit the long ball that sent the game into the initial overtime after buckets by Millsap and Harris gave the Jazz a three-point lead.
Millsap had a chance to be the hero, but he bobbled the ball while driving down the lane in the waning ticks of regulation.
"It's a little frustrating, but what can you do about it?" Millsap said. "You try to make the right play. … I got a little lazy with the ball."
The Jazz bench got injured small forward Josh Howard (zero points in 16 minutes) back after he missed the previous four games with a strained left quad, but Utah's usually reliable subs were outscored 51-22 by the Raptors' reserves.
Raja Bell had 11 points, but fellow starter Gordon Hayward had a rough 1-for-9 shooting night for two points.
As for Jefferson, he acted when asked about getting injured Wednesday morning. Corbin confirmed that his center left shootaround early for an issue with his leg, but Jefferson pleaded ignorance to the query.
"I don't know what you're talking about," he said.
No leg issue?
"No," he said. "I'm good."
No other body parts injured?
"No," he replied, laughing. "Everything's good with me."
Jefferson then gave this explanation to the situation.
"I just had to use the restroom. … I should've went before — my mom always told me to go to the bathroom before," Jefferson said, chuckling. "Sorry, I didn't mean to give y'all any false hope about me being hurt. I'm good."
Hours later, the Jazz only wished that were the case.
Email: jody@desnews.com
Twitter: DJJazzyJody