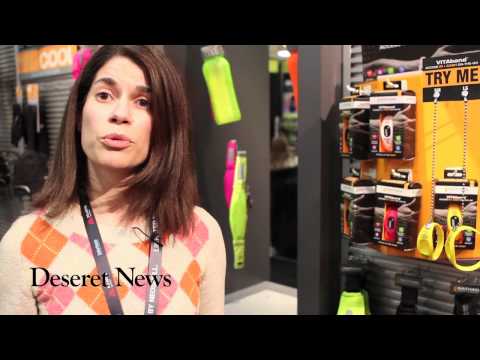 View 6 Items
Deseret News

I consider myself a pretty safe runner. I never wear headphones, I usually run against the flow of traffic, I wear bright clothing, I choose routes with the least amount of traffic and I always keep an eye on cars both in front of me and behind.
Of course, that hasn't stopped me from considering the possibility something may happen. I've often felt that pang of guilt as I pass by the runner safety booths at marathon expos. I should probably have some kind of ID on me while I run, in case the unthinkable happens, right?
The other day I was picking up some running-related items at my favorite running store, Striders, and co-owner Kristin Wojciechowski pointed out a new product that intrigued me.
It's sort of like the Road ID system, which is designed to identify you if something were to happen to leave you unconscious on the side of the road. However, this little device does much more.
It's made by a company called Nathan and called the VITAband. It looks like one of those rubber LiveStrong wristbands, only this one is on technological steroids.
That same day, I was headed to the Outdoor Retailer Winter Market and ran into Lisete Andre Cleary, a Nathan marketing strategist. She said the band basically serves two purposes: to identify you in case of an emergency and to allow you to have access to your money while doing the things you love. "Having this band means there's no more wadding up cash in your sock," she said.
Once you purchase the band, you register online at www.nathansports.com/vitaband. Then the company sends you a computer chip that allows "contact free" purchases at more than 150,000 businesses around the country. It works like a pre-paid debit card, only you simply wave it in front of a scanning device without touching anything. That alone gives me the comfort of knowing I will no longer be timidly handing an underpaid clerk some sweaty bills for an overpriced Gatorade.
Some local companies who participate with the contact-free scanners are Starbucks, Macey's, 7-Eleven, some Chevron stations, Walgreens, Rite Aid and Subway, among others. A quick search for your ZIP code on the company website will reveal the locations nearest you.
The band is also etched with a toll-free number and a unique personal ID number that is registered to your specific profile. Should the unthinkable happen, first responders are able to call the number, identify the number and access all the information you included in your profile. That information could include telephone numbers, addresses, drug allergies, whether you are a diabetic, your emergency contact, closest relatives, insurance policy numbers and the list goes on and on.
Comment on this story
The information attached to your particular device is secure as well. "It's a secure database and personal information will only be accessed by first responders," said Cleary. The operators answering calls are trained to verify anyone who calls.
Even though the applications for such a band are limitless, the band was engineered with the outdoor lover in mind. "If you are outside, this is for you," she said.
Although I like to keep running as simple as possible, this little gadget just made things a little more convenient, with a slice of peace of mind for good measure.
Brian Nicholson has completed marathons from Boston to Beijing, is a host of Ragnar relays and has developed a keen taste for all things Gu.