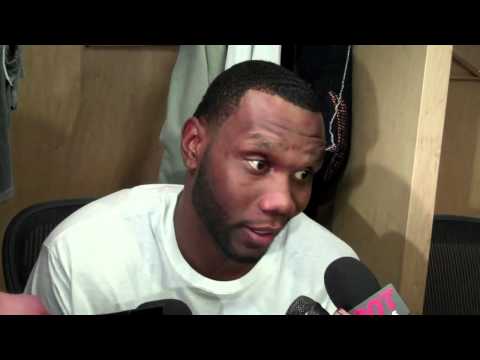 View 61 Items
Brandon Brown, Deseret News

SALT LAKE CITY — After a few tough games during its inaugural season, legendary Utah Jazz broadcaster "Hot Rod" Hundley dubbed Minnesota's new franchise the "pesky Timberwolves." And two decades later, that adjective could be applied to the up-and-coming Minnesota squad. While Utah maintained the lead for most of the game, the Timberwolves kept it interesting throughout.
The Jazz came away with the win, 108-98, Saturday night at EnergySolutions Arena.
Paul Millsap led again with his clutch play, not to mention his 26 points and nine rebounds. Al Jefferson and CJ Miles both tossed in 18 points, while Raja Bell chipped in with a steady 12.
Minnesota, fresh off a buzzer-beater win over the Los Angeles Clippers Friday, saw seven players score double-digits, but it wasn't enough.
Point guard play: Much has been said about Ricky Rubio the past two seasons while the Timberwolves waited for him to make his move to the NBA. It's safe to say that he is living up to all the hype. The Utah Jazz got their first chance to face the rookie point guard, who was a complete handful. Showing veteran poise, Rubio padded the stat sheet with an impressive line: 17 points, 11 assists, and four first-half steals.
But not to be outdone, the point guard duo of Devin Harris and Earl Watson did the job for the Jazz. Harris, off the heels of a one-point, 0-for-7 shooting night versus Dallas, found himself the national media subject of trade rumors. He had a nice bounce back game with nine points and three assists. He appeared more active and involved.
Watson continued to endear himself to Utah fans with his heart and grit. His play in the second and fourth quarters was integral to the victory as evidenced by his 10 points and seven assists. He made all the right plays, whether it was a fearless drive to the hoop or a perfect pass to a teammate.
In an interesting move, head coach Tyrone Corbin went with both point guards the final two minutes of the game (with Bell at the small forward).
Bench energy: The bench's efforts have been a constant this whole season and Saturday was no exception. This was clear in a momentum-building 32-point second quarter, which was triggered by the reserves. Watson's night has been mentioned and while he spearheaded the effort, he had good company.
Miles continued his recent aggressive play, which earned him 10 free-throw attempts. Derrick Favors, who was fined $25,000 for his ejection Wednesday night, snared seven rebounds and blocked two shots, and rookies Enes Kanter and Alec Burks keep making positive contributions.
All in all, in the absence of Josh Howard's 11 points per game, the reserves finished with 39 points.
Odds n' ends:
Love, the NBA's second leading rebounded, finished with just seven caroms.
Derrick Williams, the No. 2 pick in the 2011 Draft, had one of his best games of his season: 15 points and eight rebounds.
All 10 players who saw the court tallied 11 or more minutes and each got in the scoring column.
David Smith is providing instant analysis for Deseret News' Utah Jazz coverage this season. He works for LDS Philanthropies and also blogs for the Utah Jazz 360 website. He can be reached at [email protected] or on Twitter at davidjsmith1232.