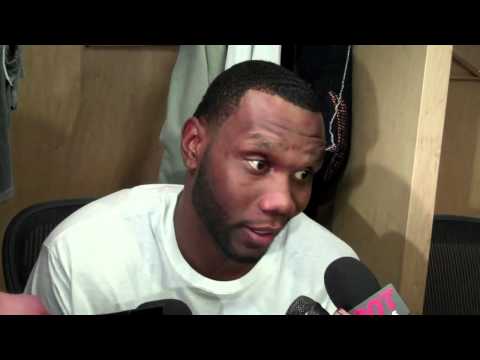 View 61 Items
Brandon Brown, Deseret News

We had to come out and win. It was a tough team. Give them a lot of credit. They are a young team like us.

—Earl Watson
SALT LAKE CITY — These are not your Hot Rod Hundley's pesky Timberwolves.
Take it from a guy who used to be one of them.
The Utah Jazz came out of Saturday night's game at EnergySolutions Arena with both a fun 108-98 win and an increased respect for the much-improved team that Al Jefferson used to call his own.
"Minnesota's a different team. They're not the same team that they was when I was there or they was the last two years," Jefferson said Saturday night. "They're a team that's playing hard and playing together, and all they need now is some experience."
Thanks to rookie Ricky Rubio — say that quickly five times in a row — the T-Wolves are more flashy than pesky nowadays.
Thanks to All-Star power forward Kevin Love — less of a tongue-twister there — Minnesota also has more power than ah-isn't-that-cute peskiness.
The Jazz used some flash (from Earl Watson) and powerful play (from Paul Millsap and Jefferson) of their own to outmatch and overcome the other up-and-coming team from the Northwest Division.
"Yeah, it was a big game for us," said Watson, who had 10 points, seven assists and four rebounds in another sparkplug performance off the bench. "We had to come out and win. It was a tough team. Give them a lot of credit. They are a young team like us."
They're not as good of a team yet, though.
Minnesota, which had seven players hit double figures, fell to 7-9 after having its three-game winning streak snapped.
The Jazz, meanwhile, bounced back nicely from their tough 94-91 loss on Thursday night to Dallas to win for the fourth time in five outings while improving to 10-5.
Watson said he didn't get the painful defeat to the defending NBA champs out of his mind until tipoff Saturday.
"It took a while," he said, "but I think our team moved forward tonight."
Millsap was a big reason for that.
Hours after Big Al respectfully called Love "the best power forward in the game," Millsap reminded everybody that he's not exactly chopped liver, either.
Utah's power forward continued his hot play of late, firing in 26 points on 12-for-18 shooting and hauled in nine rebounds.
Meanwhile, Millsap held Love in check, limiting the T-Wolves' bright big to just 15 points and a season-low eight rebounds.
"Paul, that's what he do — he take a challenge," Jefferson said.
Big Al, who had 18 points and 12 rebounds against the team that traded him to Utah in 2010, offered to take Love when Millsap got into foul trouble.
The proud Louisiana Tech product turned down the offer.
"No, I got him. I got him," Millsap told Jefferson. Added Big Al: "He take that challenge. He don't like to be pushed over. He don't like nobody scoring on him."
The entire Jazz team took that challenge in the fourth quarter.
Rubio introduced himself to Utah with some ESPN-friendly tricky no-look passes and lob plays to wow the crowd, and he finished with 17 points and 11 assists.
But Watson, who played the final 12 minutes, held him to four points and one assist in the final quarter, and the Jazz put the clamps on Minnesota's offense by allowing just 17 points in the fourth after giving up 81 points through the first 36 minutes.
Minnesota only made 7 of 21 shots in the decisive quarter in which the teams were tied at 84-all early on.
"I think we figured them out," Watson said. "They're a unique team, great shooting team and we worked at it, worked at it, and it started clicking for us defensively. We just focused in and got the details cleaned up and made a push."
Especially Millsap and Watson, who had 12 and six points in the fourth, respectively. They both made buckets in the final two minutes to help pull away after Minnesota pulled within four at 100-96.
"We took them out of their sets, out of what they wanted to do," Millsap said of the strong finish. "We had a lot of deflections in the fourth quarter. We got out and guarded them. The effort wasn't really there the whole game, but we turned it on in the fourth quarter."
C.J. Miles had his third consecutive strong game off the bench, finishing with 18 points and making injured Josh Howard's absence less painful.
Raja Bell added 12 points, including two 3-pointers, and Devin Harris bounced back with nine points after a miserable game against Dallas on Thursday and after suffering through a bout of stomach flu on Friday.
"We're a deep team," said Harris, who brushed off trade rumors involving him. "A lot of guys can do a lot of different things. We're all fitted together and everybody has talents and you saw a little bit of display of that tonight."
The Jazz couldn't help but be impressed by the dazzling display they saw Rubio put on, either.
"Ricky's going to be a very good player," Watson said of the 21-year-old. "He's young. He sees the floor very well. He's only going to get better."
The Jazz got some nifty plays of their own from Watson, who made a tricky play while successfully laying the ball in and getting fouled by 6-11 center Nikola Pekovic.
Watson also broke a tooth while taking a charge from Rubio.
"I think Earl brings it out of us more than anybody. That's Earl's game," Harris said. "He flairs up and he brings it out of us with his energy."