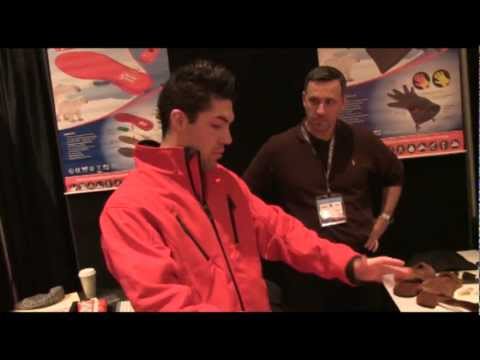 View 3 Items
YouTube


Are you tired of having cold hands and feet? Do you stuff your gloves and boots with hand warmers that get cold eventually? How would you like to have three temperature settings that provide constant heat all over your body?
Thermo Gloves brings to you gloves and accessories to keep your body warm in all kinds of weather. Battery operated gloves with carbon fiber wires embeded through the gloves that suround your fingers, allow you to pick one of three temperature settings to maintain constant heat. There is no external wire that interferes with the glove funtionality.
Comment on this story
The glove can be used as an inner glove, or it can also be used as a sufficient outer glove. The battery pack is not heavy and after wearing the glove for a duration you notice it less and less.
The gloves stay heated for 2 to 5 hours depending on the termperature level, but you can always change out the battery pack with another.
Thermo Gloves also provides other thermo products to keep you warm including remote opertated thermo insoles with three settings and a handheld hand warmer that resembles an ipod nano that recharges. While these products are available now, look for thermo slippers and outer jackets in the fall of 2012.
Tyler Tate is the owner and writer of T Squared Action Sports. Follow him on Twitter at @TSquaredSports.