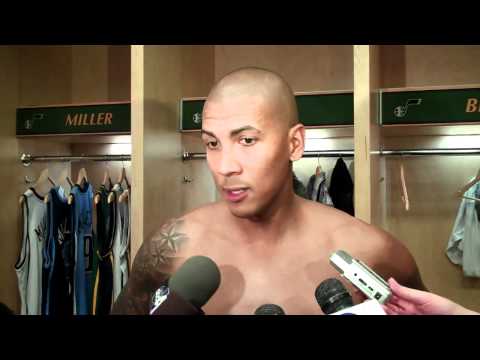 View 30 Items
Brandon Brown, Deseret News

It is natural to get up for a game against the defending NBA champions. While the first half was not indicative of that, the Utah Jazz came out with a much more energetic, focused second half versus the Dallas Mavericks, but came up short. Dallas won the nationally televised game 94-91, ending Utah's three-game winning streak.
With Dirk Nowitzki visibly looking hurt, Shawn Marion picked up the slack for Dallas with 22 points. Oft-injured guard Rodrique Beaubois added 17, many of them coming on crucial shots in the fourth quarter.
Meanwhile, Utah was led by Al Jefferson with 22 points and 9 rebounds. Paul Millsap chipped in with 16 points and 13 rebounds but struggled for the first time in several games, going 6-16 and having a few shots blocked.
Which team is which?: One team is older, lost a heart-breaker on a buzzer beater Wednesday night, took a late-night flight into Salt Lake City and arrived at their hotel after 3:15 a.m. The other is quite a bit younger, had the night off and slept in their own beds. Based solely on the first half's tenor, you would think the latter described the Dallas Mavericks.
Dallas showed no fatigue or age as the Mavericks sprinted out to a 59-50 halftime lead, including an impressive 34-point second quarter. Led by a spirited Marion, the Mavs shot 59 percent at the end of 24 minutes.
The Jazz showed their youthful energy the second half and gave a fine effort, but Dallas showed the veteran poise down the stretch representative of an NBA champion.
Defensive third quarter: After the aforementioned torrid first half, the Mavericks were held to just 12 points in the third quarter. They committed seven turnovers, which contributed to Utah erasing a 12-point deficit. The Jazz accelerated the pace, which helped them eliminate the double-digit Dallas lead. Gordon Hayward was particularly active, garnering three steals and a blocked shot in the period.
1
comment on this story
Passion: Much has been said about the leadership of Earl Watson. Case in point: after an offensive foul on Derrick Favors, Nowitzki slapped the ball out of his hands. Watson, sticking up for his teammate, ran over and did the same. He was called for a technical foul, but it helped ignite a fire under an already fired up Jazz squad.
In a subsequent play, Favors was called for another offensive foul and uncharacteristically tossed the ball. Because it went near the stands, the referees tossed the second-year man out of the game.
There was a definite chippiness exhibited by both teams in the closely fought game.
David Smith is providing instant analysis for Deseret News' Utah Jazz coverage this season. He works for LDS Philanthropies and also blogs for the Utah Jazz 360 website. He can be reached at mechakucha1@gmail.com or on Twitter at davidjsmith1232.