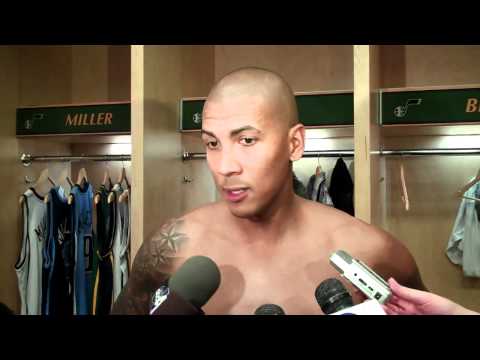 View 30 Items
Brandon Brown, Deseret News

They're good. That's a good ballclub. hey did the things they needed to win. They made the big shots and they are a good team. We put up a good fight, but came up short.

—Jazz coach Tyrone Corbin
SALT LAKE CITY — Hours before the Utah Jazz took on the Dallas Mavericks, Al Jefferson admitted that it didn't matter when or where it happened nor what TV crew was there.
The Jazz simply had to be up to face the defending NBA champions.
"It could be a Sunday night game at the park," Big Al said. "You've got to come ready to play against them."
This one was on a prime late-night Thursday spot on TNT, and it was at EnergySolutions Arena — far from a park.
There was little doubt the Jazz were up to play and scrap against Dallas.
They just weren't quite up to beating them.
It was exciting and close, but not quite exciting and close enough for the Jazz, who dropped an intense and entertaining 94-91 playground-like battle to the Mavericks.
The loss snapped Utah's three-game winning streak, dropping the upstart Jazz to 9-5.
Utah trailed by nine at halftime but picked up its defensive intensity in the second half. After allowing Dallas to score 59 points in the opening half, the Mavericks were limited to 12 points in the third quarter (to the Jazz's 21) and just 35 points in the second half.
They ended with three points to spare, and earned that advantage in the last few minutes.
"It was just a lack of energy in that first half," Jazz small forward Gordon Hayward said. "If we would've come out in the (first) like we did the (second), we probably wouldn't have been in that position. You got to credit them. They made some plays down the stretch. They're a good team."
A chunk of the credit goes to Shawn Marion, who fired in 22 points to help Dallas (9-7) snap its two-game losing skid, despite arriving in Salt Lake after 3 a.m. on Thursday following a heartbreaking loss to the Clippers.
"He's a tough a player. He's a matchup problem usually," Hayward said. "He's got a nice little jump hook that's hard to guard. No matter how tall you are. He shoots it quickly."
Jefferson led the Jazz with 22 points and nine rebounds, while Paul Millsap totaled 16 points with 13 boards. Dallas native C.J. Miles contributed 17 points for the Jazz bench.
Hayward had a game-tying slam with just under three minutes remaining, but the more-experienced Mavs played like champs down the stretch.
Jason Terry hit a 3-pointer and then Jefferson couldn't come down with a defensive rebound, leading to a Marion inside hoop and a 92-87 lead for Dallas with 1:10 remaining.
Jefferson only hit one of two free throws in the final minute, and a Devin Harris airball on a long-ball attempt squelched the Jazz in the final seconds.
"They outexecuted us down the stretch. They did," Jazz shooting guard Raja Bell said. "Some of that comes from having played in those situations many a time on their way to a championship and us being inexperienced, but part of it is just us not executing the way we need to down the stretch and it cost us."
A stark comparison: Both teams made eight shots in the final quarter, but the Jazz took 27 attempts compared to Dallas' 8-for-14 shooting in that decisive period.
"They're good. That's a good ballclub," Jazz coach Tyrone Corbin said. "They did the things they needed to win. They made the big shots and they are a good team. We put up a good fight, but came up short."
Despite a slow start to their season, the Mavericks looked every part of the defending NBA champions that they are.
The Mavs were sparked by a strong first-half showing by Marion. The 33-year-old looked like a spring chicken — a talented one that could hoop it up — as he hit 7 of 10 shots in the first half to put the Mavs ahead by double digits.
Rodrigue Beaubois hit some huge drives in the fourth quarter and finished with 17 points. The Jazz did a strong job on Dirk Nowitzki, who only had 12 points on 5-for-12 shooting.
Jazz-killer Lamar Odom returned to form, though, with 11 points, and Terry had 10.
The third quarter had a wild and emotional finish.
The Jazz fired in 10 straight points and went on a 15-4 run to tie it up on an old-fashioned three-point play by Earl Watson.
Miles put the Jazz ahead with one of his multiple steals and fast-break buckets.
But on Utah's next possession, Derrick Favors was called for an offensive foul. Nowitzki smacked the ball out of his hands and was met by a ticked-off Watson, who tried to return the favor while sticking up for his teammate.
That resulted in a technical on Watson, and got the crowd riled up.
The fervor of the fans — and the Jazz — hit a fever pitch on the ensuing possession when another offensive foul was called.
A fed-up Favors tossed the ball from one side of the court into the stands on the opposite side by the Dallas bench, and then he was tossed out the tunnel by the Jazz bench by referee Matt Boland.
That was the 20-year-old's first technical foul, but he was ejected for throwing the ball into the stands.
To say the least, Favors didn't agree with referee's call.
"I was pretty frustrated. There were a lot of emotions in the game," Favors said. "It was tough. I let my emotions get the best of me, and I've just got to control them."
Favors did call Watson's act "good leadership."
Nowitzki hit both free throws, and the teams ended the quarter tied at 71-all.
That set the tone for a hard-fought fourth quarter.
"We've got to be smarter about it, but we don't want to get pushed around by anybody," Corbin said of the physical play and techs. "They made the calls. I like to see the fight; we're not going to let anybody push us around."
Email: jody@desnews.com
twitter: DJJazzyJody