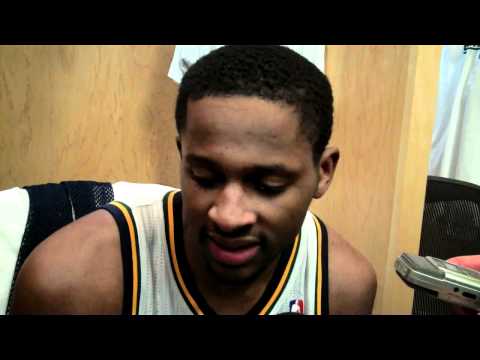 View 22 Items
Brandon Brown, Deseret News


After a surprising 9-4 start, the national media has started to take notice of the Utah Jazz. While there has been much praise, there have also been doubts, with some citing a weaker early schedule. Moreover, most of the Jazz's opponents have been missing prominent players, something that has not escaped the media's attention.
Tuesday night, the Los Angeles Clippers were in the middle of a back-to-back-to-back series, doing so sans All-NBA point guard Chris Paul. That said, no matter the circumstances, Utah's 108-79 blowout win over the Los Angeles Clippers was impressive as they took care of business from the get-go.
It was yet another balanced effort by the entire Jazz roster, as no one toiled more than 30 minutes and eight players chipped in between eight and 20 points.
Clippers' sensation Blake Griffin was held to just 10 points and 11 rebounds.
Welcome back, CJ: It's been an up and down season thus far for swingman CJ Miles, who came into the game averaging just 7.3 points per game (down from a career-high 12.8 average last season). Furthermore, he was shooting a paltry 33.7 percent from the field and 28.6 percent from three-point land prior to Tuesday's outing. For the most part, he's been pressing in his somewhat limited playing time, and as a result, many of his attempts have been forced from the perimeter.
Miles decided to do things differently versus the Clippers, adopting an inside-out mentality. Within minutes of entering the game, he had three lay-ups on aggressive forays to the hoop. That set the stage for his most impressive game of the young season. Miles finished with 19 points and five rebounds. He was also active on the defensive end, notching four steals, two of which led to breakaway dunks.
Bench Playing Big: By just looking at the box score, one might not guess the Jazz were missing their two top bench performers — Josh Howard and Derrick Favors. Getting some extra playing time thanks to the comfortable margin, the fourth highest scoring bench upped their average with 54 points — half the team's total Tuesday evening.
Besides Miles' strong performance, Jeremy Evans got his first extensive minutes and produced nine points and two blocked shots. Rookies Alec Burks (11 points and six rebounds) and Enes Kanter (10 points and five boards) continue to leave their imprint on the games.
Conversely the Clippers, sporting a bench consisting of unknown players Courtney Fortson, Trey Thompkins, Travis Leslie, and Solomon Jones managed just 32 points. To be fair, Los Angeles was also missing their top sub in former Jazz man Mo Williams.
2
comments on this story
Outlobbing Lob City: When the Clippers made the much-discussed trade for Chris Paul, the moniker "Lob City" was given to the young L.A. franchise, thanks to the high-flying frontcourt pair of Blake Griffin and DeAndre Jordan. And thus far, they have not disappointed on that front.
Tuesday, it was Utah who exuded dunking dominance. Led by fan favorite Evans along with Kanter, and Miles, the Jazz threw down a number of dunks in the second half, helping electrify the EnergySolutions Arena crowd.
David Smith is providing instant analysis for Deseret News' Utah Jazz coverage this season. He works for LDS Philanthropies and also blogs for the Utah Jazz 360 website. He can be reached at mechakucha1@gmail.com or on Twitter at davidjsmith1232.