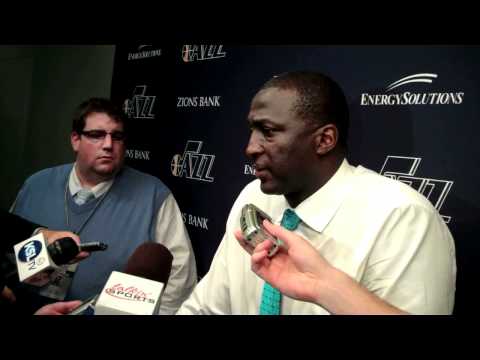 View 30 Items
Brandon Brown, Deseret News


It was a lot of fun. When Raja's getting 'and-one' dunks, you know you're having a good time.

—Gordon Hayward
SALT LAKE CITY — As he expected, Deron Williams got booed Saturday night by EnergySolutions Arena's vocal majority.
Loudly.
And often.
But people in the mood to cheer his former team, the Utah Jazz, had plenty of chances to go wild as well. The guys currently sporting Jazz uniforms handily beat the handful of New Jersey-based players who used to be on this Salt Lake City squad in a 107-94 rout.
The home crowd of 19,557 ate up the performance of the 2011-12 team, which had its most dominant game of the season.
Utah dominated the Brook Lopez-less Nets inside, with Al Jefferson (20 points) and Paul Millsap (18 points, 12 rebounds) helping the Jazz gain a forceful 38-point advantage in the paint.
Five Jazz players in total hit double figures, including a season-high 17-point bench boost from C.J. Miles, a dozen first-half points from Raja Bell and 10 from Gordon Hayward.
Utah shot 51.9 percent, and tallied season-highs in paint points (64) and fast-break points (23) and grabbed its biggest lead (23) while improving to 7-4.
"It was a lot of fun," Hayward said. "When Raja's getting 'and-one' dunks, you know you're having a good time."
Bell, who registered a season-high in scoring, joked that he felt 22 years old on a soaring "Rajam" that preceded a last-second layup that gave Utah a commanding 57-40 halftime lead.
"We wanted to come out with a lot of energy, really stop them defensively, make them get out of what they wanted to do," Hayward said. "We were getting stops, so we were able to get out and run and get some easy buckets. When you do that, the whole game just starts to get a little easier."
This night was anything but easy for the homecoming guys.
And especially Williams, who has seen many, many better days in the building.
On Friday in Phoenix, the Net playmaker looked like an MVP candidate with 35 points and 14 assists.
But on Saturday amongst hecklers and quieter supporters, D-Will scored 16 points on 3-for-15 shooting with only five assists. It was the first time he's played in Utah since being traded to New Jersey — following Hall of Fame coach Jerry Sloan's surprising resignation — almost a year ago.
Jazz coach Tyrone Corbin liked how Jazz defenders stayed on Williams, denying him positions he prefers, pushing and pressuring him while "doing a good job on him" — from Devin Harris to Hayward.
"It wasn't a very good one for me," the two-time All-Star Williams said. "But it was fun to be back in this building, and it was fun to see all my ex-teammates and Ty over there."
The former face of the Jazz franchise heard boobirds — like a villain at a melodrama, minus popcorn throwing — from the moment he was introduced to each and every time the Spalding was in his possession or his name was announced.
Boo. Hiss. Jeer. Catcall. Repeat.
"It was a bad game all-around for me, for our team," said Williams, whose Nets fell to 3-10. "We didn't move the ball well, we turned the ball over, so we've just got to move on to the next one."
So the Jazz do, and quickly. They've got a rematch with Denver tonight at the Pepsi Center where they got blown out 117-100 on Dec. 28.
Jefferson said the Jazz, winners of five of their last six, are a different team than they were in Game 2 of the season.
"We're going to go in there," Big Al said, "with the same attitude that we had tonight and against Golden State (for) our only road win and play the game we were taught to play."
As a bonus, the Jazz are heading to Denver fresh. Corbin emptied his bench, giving young guys ample court action and nobody playing more than Millsap's 271/2 minutes.
"We need everybody to be ready to play. The guys are doing a tremendous job of not complaining about their minutes," Corbin said. "They're just coming and playing the minutes that they're playing, helping each other out, the guys are talking on both ends of the floor, they're making the extra pass, and that's what's going to help us win games."
This one, though, was admittedly bizarre for Corbin, considering ex-Jazz guys Williams, Mehmet Okur, Sundiata Gaines, Kris Humphries and DeShawn Stevenson were all together on the opposing team.
"It's a weird feeling to have that many guys on one team come into your place where you worked with them," said Corbin, who spent time with all of that group but Stevenson.
Okur received a much more favorable reception than Williams in his first game back in Utah since being traded to New Jersey in mid-December.
The popular Turkish center was loudly cheered during intros and went on to score nine points and grab seven rebounds.
"It was huge," said Okur, who was worried he might get booed by Jazz fans. "I really appreciate them to come out and support me and show some love and just make me feel good tonight."
Humphries (18 points and 10 rebounds), Gaines (11 points on 4-for-5 shooting) and Stevenson (zero points) also made appearances on Larry H. Miller Court.
But Saturday's score seemed to validate the Jazz front office's decision to have their current crop of players over their five former ones.
"It could have been a lot more fun if we had a 'W' tonight," Okur said.
"It was an emotional game for everyone," Millsap added, "but I'm glad we go the win."
NOTES: Derrick Favors registered his first (and only) assist of the season, and Jamaal Tinsley scored his first (and only) point of the year. … The Jazz improved to 6-1 at ESA. … Utah had runs of 15-2 and 10-0 in the first half.
Email: jody@desnews.com