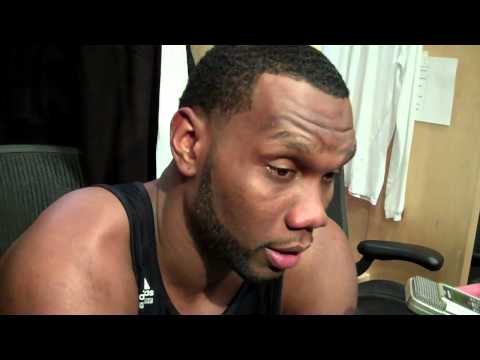 View 33 Items
Brandon Brown

SALT LAKE CITY — The Utah Jazz didn't beat L.A., as their fans chanted for them to do Wednesday night.
Nope. The Lakers handed the home team a tough-to-swallow 90-87 overtime loss at EnergySolutions Arena, in fact.
And with that win, the visitors simultaneously broke Utah's perfect home record, overall winning streak and Jazz fans' hearts.
To the Jazz's credit, though, the Lakers (8-4) didn't snap them in half and toss them to the crowd like they did in Utah's 96-71 season-opening loss 16 days ago at Staples Center.
Showing the rapid progression of a surprisingly improved Jazz team, coach Tyrone Corbin and his rag-tag group of players were in this one against this NBA power until the last second — had a great chance to win it even.
Despite a 40-point night by Kobe Bryant.
Despite 38.7 percent shooting by a Jazz team that was so hot the previous night.
Despite another rough outing against the Lakers from Al Jefferson.
"We didn't give up. We got beat by (25) up there in their place, (but) L.A. had to fight tonight. They had to fight tonight," said Jefferson, who followed his 2-for-16 showing last time against the Lakers with a 5-for-17, 11point outing. "These are the games that hurt the worst because we had our chance to win it, but them boys had to fight. … They've got to give us respect."
Despite so many things that went wrong, the Jazz had a shot to win this in the final 0.7 seconds because of so many things that went right.
In the end, Jefferson's game-winning layup attempt in overtime was given some reverse Swat Lake City inhospitality by 7-footer Andrew Bynum.
But Paul Millsap's 29 points, Josh Howard's bench boost of 18 points and some gutsy defense — by Raja Bell, Howard, Jefferson and Millsap — put the Jazz in position to, yep, beat L.A.
In other words, they've come a long way since their pitiful opening performance provided the Hollywood crowd with comic relief only a couple of weeks ago.
"X and O-wise, execution-wise and just plain-old-effort-wise, I think we were in the game," Bell said. "We kind of laid down in L.A. that first night to this team. They're probably a better team now than they were then, too, so I think that says something about us."
Bringing a five-game winning streak and a 5-0 home record into this one also spoke highly of what Utah, now 6-4, has done since beginning the 2011-12 season.
And the Jazz were oh-so-close to really making NBA naysayers take notice.
Millsap's tip-in with 21 seconds left in regulation to tie it at 78 — and some stifling Bell defense on Bryant in the waning seconds — helped force overtime in this back-and-forth battle.
The Jazz power forward, who followed his 9-for-10 shooting night Tuesday with a 14-for-24 outing in this one, then gave Utah a four-point overtime lead early in the extra session.
"He's playing really well," Corbin said of Millsap, who also had nine rebounds. "He's playing smart and doing what he does."
Unfortunately for the Jazz, the Lakers' Big Three then did what it does so well — win games.
Bryant and Howard traded 3-pointers, but Pau Gasol (14 points, 11 rebounds) then put the Lakers ahead for good with two free throws and a gut-punching trey. Bynum (12 points, nine boards) capped a decisive 7-0 overtime run for L.A. with a tip-in, putting the visiting villains up 88-85 with 51 seconds to go.
Unlike the fold-up job they did in L.A., the Jazz didn't pack it in this time.
Millsap scored to make it a one-point game. Howard forced Bryant into a miss with 17.9 seconds and grabbed the rebound, giving Utah one last chance to pull off the unthinkable.
Corbin considered calling a timeout, but he let the Jazz fly down the court to keep the Laker defenders from setting up. Gordon Hayward ended up with the ball behind the 3-point line, considered stepping up for a mid-range jumper but drove and dished to Jefferson underneath.
"It was quick. All I knew, I had it, lost it and I tried to get it up real fast because I know the clock was going down," Jefferson explained. "And Andrew Bynum, he's a big boy and he threw it right back at me."
Byrant sank two free throws and then swatted Harris' off-balance desperation heave to clinch the Lakers' first road victory of the season.
The Jazz, who next host Deron Williams, Mehmet Okur and their New Jersey Nets on Saturday, were bummed but not broken up too much by the loss.
"They fought the entire game," Corbin said.
47
comments on this story
"To lose to the Lakers, there are worse things. We could have won that game," Bell said. "We probably should have won that game. But when you get right down to it, we were slugging away with them all the way until the last .7 seconds.
"Again, if you measure us against where we started this season, I think you can't take anything but good stuff away from this. Obviously a loss is a loss, but I do think we're headed in the right direction."
Their next chance to beat L.A. will come at home on Feb. 4.
email: jody@desnews.com Twitter: DJJazzyJody