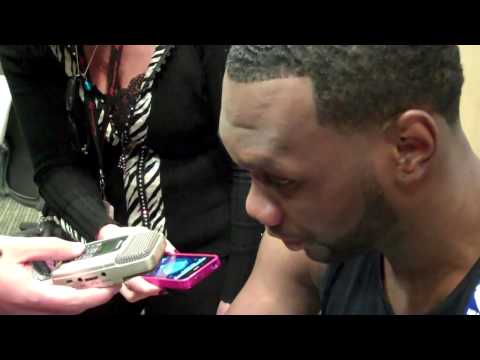 View 41 Items
Brandon Brown

The hottest team in the NBA continued that streak Tuesday night as the Utah Jazz defeated a very young Cleveland squad, 113-105. In a high-scoring outing, the Jazz led most of the game en route to their fifth consecutive victory. Utah is now a perfect 5-0 at home.
Center Al Jefferson continued his offensive dominance, scoring a game-high 30 points while corralling 12 rebounds. Paul Millsap had a season-high 19 points, while Josh Howard and Derrick Favors had 17 and 14 points off the bench, respectively.
Kyrie Irving lived up to the early season hype with a 20-point, five-assist outing. One of the few veterans on the Cavs roster, Antawn Jamison, led Cleveland with 22 points.
Getting offensive: While their defense was mediocre at best, the Utah Jazz offense was exceptional. From the onset, Utah took advantage of the Cleveland frontline and did most of its damage from the inside with 50 points in the paint.
The team that struggled mightily the first two games seems to get more acclimated to each other each game, as evidenced by Utah's scorching 59.2 percent shooting mark from the field. While the turnovers were an issue in the first half with 11, Utah settled down the second half — just three miscues. Gordon Hayward led a balanced assist effort with a career-high eight dimes.
After scoring just four points in the season opener, Jefferson has torn off an impressive string of efforts where he's averaged 21.9 points the past seven games.
Millslapped: For a player who was snubbed from the All-Star ballot one year ago, Paul Millsap certainly played like he belonged in the midseason affair … until foul trouble got in the way. No one's offense was more precise. From the get-go, Millsap looked extremely determined on offense, scoring on an array of jumpers and smooth moves inside. He finished a perfect 6 for 6 from the field in the first quarter, 8 for 8 for the first half.
In fact, he did not miss until midway through the third quarter. The only thing that stopped him was the refs' whistles as he fouled out in just 26 minutes. When it was all said and done, Millsap dazzled the ESA crowd with a 9-10 shooting display from the floor.
1
comment on this story
Playing the lottery: Two teams had two lottery picks apiece in the 2011 NBA Draft: Cleveland and Utah. Cleveland nabbed point guard Kyrie Irving and forward Tristan Thompson, while center Enes Kanter and guard Alec Burks became Jazz men. All four played Tuesday, but only one got meaningful court time. Irving definitely showed why he was the No. 1 pick. Thompson chipped in nine.
Utah's rookies' contributions were more pedestrian, with Kanter tallying four rebounds and Burks four points. Burks did not play in the second half, as the Jazz coach opted to go with CJ Miles.
David Smith is providing instant analysis for Deseret News' Utah Jazz coverage this season. He works for LDS Philanthropies and also blogs for the Utah Jazz 360 website. He can be reached at mechakucha1@gmail.com or on Twitter at davidjsmith1232.