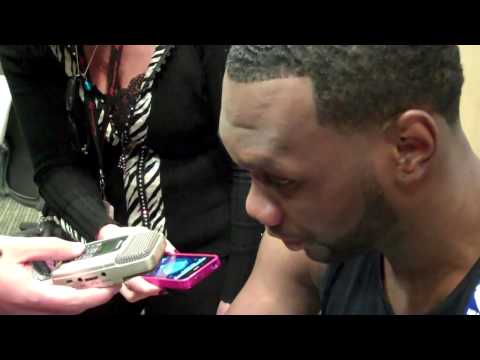 View 41 Items
Brandon Brown

It's always nice when you get a good offensive output. But for the most part, our defense always leads the offense. I'm going to always preach that for the rest of the season.

—Jazz small forward Josh Howard
SALT LAKE CITY — The result was the same for the Utah Jazz.
As they've been doing a whole lot lately, the Jazz picked up yet another victory Tuesday night.
The execution, though, was much different.
Much better, too.
Defense, defense, defense and another helping of defense sparked Utah's previous four wins over the past week.
Offense made some noise in this one.
The Jazz's red-hot ways in the standings and on the defensive end of the court spread to their shooting touch in a 113-105 win over the Cleveland Cavaliers.
"It's always nice when you get a good offensive output," Jazz small forward Josh Howard said. "But for the most part, our defense always leads the offense. I'm going to always preach that for the rest of the season."
And watch out if the congregation his sermon's intended for puts both together on the same night.
The offense got most of the praise in this one. As a team, the Jazz shot a season-best 59.2 percent (45-for-76) while winning their fifth-straight game overall and improving their record to 5-0 at EnergySolutions Arena.
In other words, they've come a loooong way since that season-opening loss to the Los Angeles Lakers in which they only scored 71 points.
Good timing. The Lakers will be their guests at ESA tonight.
The Jazz (6-3) only hope to send them out of town as frazzled as the team that shared their court Tuesday — a team that couldn't handle a couple of fierce, beast-mode efforts.
"They had a two-headed monster tonight," Cleveland rookie Kyrie Irving (20 points) said. "They had Al Jefferson and Paul Millsap."
And, yes, it was a mash — a monster mash for those two.
Jefferson scored a season-best 30 points on 13-for-17 shooting with 12 rebounds, and Millsap made the starting center look cold. The sixth-year power forward hit all eight shots in the first half, finished 9-for-10 from the field and scored 19 points before fouling out.
"If they get the ball in their spots," Jazz coach Tyrone Corbin said, "they're difficult to guard."
The Cavaliers, who slipped to 4-5, noticed.
"Their post players are just too good," Cleveland coach Byron Scott said. "When Al has it going like that, I don't think there is anybody in this league that can stop him."
The Jazz agreed that their best offensive game of 2011-12 — and just their third century mark outing — was revved up by their scary-good performance.
"We were moving the ball better," Jazz small forward Gordon Hayward said. "Paul and Big Al were definitely carrying us. They were scoring almost with ease, so when they're able to do that it makes everyone else's job pretty easy."
It helps when guys like Hayward chip in with eight assists, when the looking-better-by-the-game Josh Howard explodes for 17 points off the bench on 6-for-9 shooting and when a third big beast, Derrick Favors, throws in 14 points and five rebounds to boot.
Hayward's career-high assist night reminded the former point guard of the NBA guy he tried to pattern his game after back in the day — Phoenix's former MVP.
"Creating for my teammates and getting the other people open shots is what I love more than anything," said Hayward, who followed up his season-best 18-point outing with five points but had a bunch of savvy passes. "When I got drafted, I remember saying Steve Nash was the dude I modeled my game after. I love just getting other people the ball. They were knocking down shots so it made it easy."
Defensively, the Jazz allowed more than 100 points for the first time since getting blown out in San Antonio, 104-89 on New Year's Eve 2011.
But Cleveland only shot 44.9 percent, including 22 points from Antawn Jamison and a 20-point Utah debut for Irving, the lightning quick No. 1 pick out of Duke.
Corbin focused in on the defensive deficiencies more than the offensive successes.
"It was a tough battle tonight," he said. "I thought we were good in spots, but we weren't so good in some (other) spots. We got the win, and that's the most important thing."
The Jazz's offense looked completely different — as in it actually scored — than when they lost in L.A. by 25 on opening night two weeks ago.
"We're a much better team than the first time we played against them," said Jefferson, who shot a miserable 2-for-16 in that blowout. "We're still going to have our hands full, but we've got our home crowd. We've just got to go out there and play like we've been playing the last five games."
Email: jody@desnews.com
twitter: DJJazzyJody