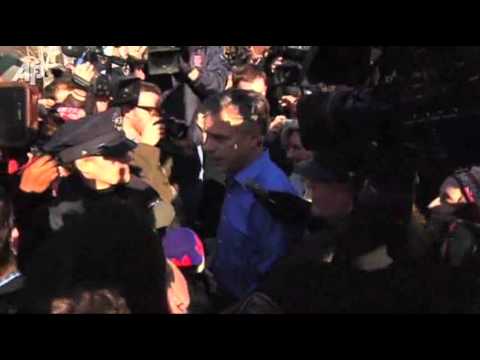 View 36 Items
YouTube

Maybe we can give him a boost. Maybe we can tell them to at least take a look at this guy. If you look at him, you're going to like him.

—Donald Byrne, a software executive
MANCHESTER, N.H. — Even though the polls won't close in the nation's first presidential primary for more than an hour, the downtown bar and grill where Jon Huntsman Jr. is holding what he hopes will be a victory party was already packed.
Huntsman spent the day appealing to voters in media interviews. He told the Deseret News late Tuesday afternoon after talking to a number of New Hampshire radio stations that "even without sleep, I'm doing good."
The former Utah governor and U.S. ambassador to China appeared to be headed to the top-three finish he'd said he needed to continue his bid for the White House after a steady climb in the polls in recent days.
That helped convince at least voter to stick with Huntsman.
Donald Byrne, a software executive, had said days ago he was having second thoughts about Huntsman because he seemed like too much of a long shot. But Byrne said Tuesday he cast his vote for Huntsman.
"I was teetering toward Gingrich," Byrne said, until Huntsman's numbers started ticking upward.
"You want to cast your vote for a winner," he said, acknowledging Huntsman may have trouble with voters in the next state to hold a primary, South Carolina. "Maybe we can give him a boost. Maybe we can tell them to at least take a look at this guy. If you look at him, you're going to like him."
Tony Trubiaro, a salesman, grabbed Huntsman for a hug when he spotted him in a hotel lobby. "Make it happen," Trubiaro told Huntsman.
Truibiaro said he didn't vote for the frontrunner in New Hampshire, former Utah Olympic leader Mitt Romney, "because he's going to win this thing anyway. Let's see how far (Huntsman) can go. His passion and energy — I really like this guy."
Huntsman was expected to address supporters and the media gathered at his primary night headquarters, the Black Brimmer bar and grill, once the election results were in. 
There was no shortage of excitement surrounding Tuesday's primary. Voters at a school near downtown were separated by barricades from the hordes of reporters and candidate supporters gathered outside.
The Webster Elementary School was the site of visits by several candidates throughout Tuesday morning, including Huntsman, who walked up and down one of the sectioned-off areas, answering questions from reporters.
Meanwhile, Romney supporters in the crowd were yelling, "Go, Mitt, go," over and over, while the Huntsman backers strained to get a look at the candidate. Dressed in a red parka, with his wife, Mary Kaye, at his side, Huntsman looked relatively relaxed.
His staff said he was in an upbeat mood, following several days rising in the polls. 
Josh Sacks, an IT consultant from Arlington, Va., who took vacation time to volunteer for Huntsman in New Hampshire, said he's excited to see the results of today's GOP primary election.
"I think he's going to be surprising a lot of people tonight," Sacks said, predicting "a strong second place" finish for Huntsman. 
Sacks said he joined the campaign because he believes Huntsman is "the only candidate with the experience and intellect to get us out of the hole we're in." 
Some of the voters at the polling site simply shook their heads and hurried by the assembled television cameras and journalists as Manchester police — including two officers on horseback — kept the pathways to the polls clear.
"I think this is expected," Jessica Gilcrest, a school librarian, said about the circus-like atmosphere. "People get passionate about what they believe in. There's nothing wrong with that."
Gilcrest decined to say who she voted for, but said she told her two young children accompanying her that "it's our responsiblity to pick a leader." The toddlers, however, appeared more interested in the police horses.
9
comments on this story
Eleanor Dunfey, however, had no problem telling reporters she voted in the Democratic primary even though President Barack Obama faces no opposition for his party's nomination.
Dunfey said she never considered voting in the GOP primary but did like Huntsman after seeing him speak at the Southern New Hampshire University commencement, where she is a professor of business ethics.
"I respect him. The rest of (the Republican field), I've been disturbed by the lack of substance," Dunfey said. "I don't think the focus is on the serious issues of the world."
E-mail: lisa@desnews.com, Twitter: dnewspolitics