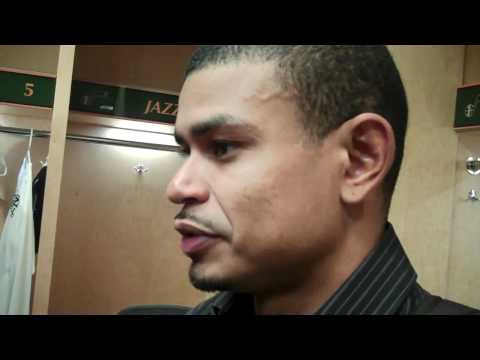 View 30 Items
Brandon Brown, Deseret News

For many years, the Utah Jazz has been known for its dominance at home. The EnergySolutions Arena has long been a feared destination for opponents. After losing that last season (21-20 at home), it looks like the home court advantage may have returned as Utah won its fourth straight at ESA, beating the Memphis Grizzlies 94-85.
The Grizzlies led most of the first half and into the third quarter before Utah slowly but surely chipped away at the deficit in the second half, outscoring Memphis 49-38. The Jazz energy and defense spurred a strong fourth quarter push to finish the game.
With the team shooting 51% for the night, five Jazz players finished in double figures. Al Jefferson paced Utah with 20 points and nine rebounds before fouling out. Marc Gasol and Tony Allen finished with 21 apiece to lead the Grizzlies.
Bench play: The bench was again an integral cog in the Utah victory. Utah's two free agent signings, forward Josh Howard and point guard Earl Watson continue to be catalysts, bringing energy, defense, and steadying leadership.
After suffering a left quad injury Wednesday night, Howard managed to contribute 13 points in 27 gritty minutes. Watson kept the Jazz in the game the first half by being much more aggressive offensively than usual. The veteran's line included five assists, four rebounds, and a season-high 11 points.
Alec Burks and Derrick Favors also had seven points each. CJ Miles played only nine minutes and really struggled on his way to a one-point outing.
Conversely, Memphis' depleted bench produced just 11 points.
Active hands: Utah's defense continues to improve from game to game, as Friday saw them notching 10 steals and 10 blocks. Four Jazz players swatted two shots apiece. Beyond the stat sheet, Utah was getting their hands in the passing lane and several times found themselves on the ground, diving for loose balls. As is often the case, good defense led to good offense.
Comment on this story
Lucky bounces: It's early yet, but Tyrone Corbin and company have encountered many teams playing without their star players. Friday night saw Memphis sans high-scoring forward Zach Randolph and it greatly affected the Grizzlies flow, causing players to shoulder more of the scoring load. Guards Mike Conley and OJ Mayo, for instance, combined to go 8-30 from the field.
Add to that the New Orleans Hornets (Ben Gordon), the Milwaukee Bucks (Andrew Bogut), and tomorrow's opponent, the Golden State Warriors (Stephon Curry) and it would appear Utah has been playing against the walking wounded.
David Smith is providing instant analysis for Deseret News' Utah Jazz coverage this season. He works for LDS Philanthropies and also blogs for the Utah Jazz 360 website. He can be reached at mechakucha1@gmail.com or on Twitter at davidjsmith1232.