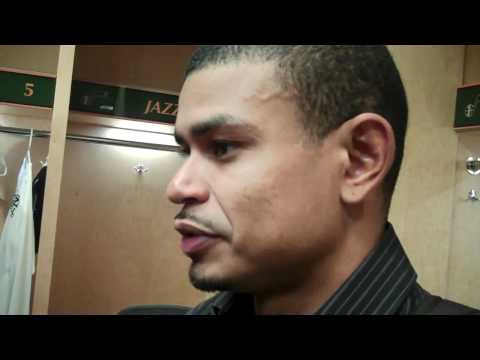 View 30 Items
Brandon Brown, Deseret News

SALT LAKE CITY — Four home games. Four Utah Jazz victories.
To say the Jazz have found a comfort zone in their own building would be an understatement.
Pass the chips and soda, please.
Where's the remote and paper?
For the first time since 2008-09, Utah is off to a 4-0 start in the comfy confines of EnergySolutions Arena thanks to a strong all-around effort Friday night in a 94-85 win over the Memphis Grizzlies.
"I think right now we're in a good groove," Jazz center Al Jefferson said in his cozy locker after another team-leading scoring performance.
The victory, sparked by a strong defensive effort, efficient offensive execution and a whole lot of bench support, was the third in a row for a Utah team off to a surprisingly good 4-3 start.
Jefferson scored 20 points with nine rebounds, Paul Millsap added 14 points and eight boards, and the Earl Watson-sparked bench looked right at home while outscoring Memphis' subs by a whopping 41-11.
"I'm feeling pretty good," Jazz point guard Devin Harris said. "We got a great team win tonight. It wasn't always pretty. I think the bench gave us a big lift tonight, both in the second and third quarter. It just shows the depth that we have as a team."
Eleven players contributed to some degree for nine-plus minutes apiece in this win for Utah, with eight Jazz players getting steals, six guys swatting Grizz shots and seven scoring between seven and 20 points.
"We have a great group of guys," Jazz backup small forward Josh Howard said.. "Guys know their roles pretty much for the most part, and continue to come out and play hard."
The offense clicked better at times than it has all season, especially after a bumpy end of the first quarter. Utah even shot better than 50 percent (36-for-71, 50.7 percent) for the first time this season.
But Jazz coach Tyrone Corbin was especially pleased with the defensive effort he received from 11 players, who helped hold a dangerous Memphis team to 41.3 percent shooting.
Sure, the Grizzlies (3-4) are without All-Star power forward Zach Randolph because of a knee injury. But center Marc Gasol (21 points, 11 rebounds), guard Tony Allen (21 points) and forward Rudy Gay (17 points) headline a still-talented squad that won 46 games and won a playoff series against San Antonio last spring.
The Jazz should consider posting a "Welcome to Swat Lake City" sign outside their arena. The NBA's best shot-blocking team's 10 stuffs made life tough on the visitors, who struggled from outside (4-for-17 on 3-pointers).
"I thought our defense was about as good as I've seen it from one to five. The stuff we did on the defensive end was really encouraging," Corbin said. "This is what we were talking about from Day 1, and to see it tonight is a clear indicator, first of all, that we can do it, that we can do it individually and we can do it as a team.
"And," he added, "we want to continue to build off of that."
The Jazz won't have to wait long to get that opportunity.
After a week at home, they lose their snuggly safety blanket tonight when they travel to Golden State to face a Warriors team that could be without star Stephen Curry.
"The big test," Big Al said, "is going to be (tonight) on the road against a great team that plays well at home."
The outcome of that contest will determine how long the Jazz stay above .500, somewhere they haven't been in the standings since March 21, 2011, when Utah fell to 36-35 after losing, coincidentally, at Memphis. That defeat was part of the late-season freefall and eight-game losing streak, which came after the surprising departures of Hall of Fame coach Jerry Sloan (resignation) and All-Star point guard Deron Williams (trade).
Because the Jazz finished that tumultuous season 39-43 and without a playoff spot and with a roster full of youngsters and experienced guys trying to find their place in the league, not many people expected Utah to post a winning record this soon.
That's what team efforts will get you — surprisingly pleasant results.
"It was an amazing game," said Howard, who had 13 points. "Guys came out and competed very, very hard, especially in the third quarter."
The Jazz made a strong charge at the end of the third to seize the momentum for good. Watson, who finished with 11 points, five assists and four rebounds, fed Jefferson for a layup, and it didn't take Utah long to turn a seven-point deficit into a 67-64 advantage by the end of the period.
Rookie Alec Burks had some free throws, Howard added a bucket, Watson fed Derrick Favors with a terrific alley-oop pass for a dunk, and Enes Kanter softly put a fade shot in after getting an offensive rebound to end the quarter.
"We feel confident," Burks added. "When you win, you feel more confident. You go to your next one and try to win that one."
Even if it's away from home.
Email: jody@desnews.com Twitter: DJJazzyJody