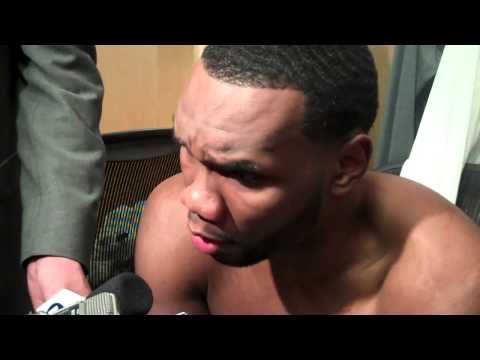 View 16 Items
Brandon Brown, Deseret News

Two teams that have experienced a lot of drama and sweeping roster changes over the past year met up in an exciting, closely fought game. Featuring a combined 12 new players and minus two All-NBA point guards (Deron Williams and Chris Paul), the Utah Jazz edged the New Orleans Hornets 94-90 Monday night at EnergySolutions Arena.
Al Jefferson and Devin Harris paced the Jazz, both scoring season highs of 22 and 19 points respectively. Filling some big shoes, Hornets guard Jarrett Jack was solid with 27 points. Unsung reserve forward Jason Smith nailed eight mid-range jumpers to finish with 16.
Up and down quarters: Like a yo-yo, Utah experienced highs and lows going from quarter to quarter. As has been par for the course this young season, the Jazz came out listlessly, managing just 18 points in the first stanza versus a team playing its third game in three evenings. The offense was stagnant, with little flow. Utah turned things around in the second, responding with an excellent offensive showing— outscoring New Orleans 32-25.
The second half mirrored the first. New Orleans won the third quarter 27-20. Despite Jefferson's 12-point effort, the Jazz once again drifted into lethargy. On the other hand, New Orleans' offense was crisp and balanced.
The fourth belonged to the Jazz, as defensive energy shifted momentum in Utah's favor. Tyrone Corbin's team outdid Monty Williams' 24-16 to end the game.
Point guard debate: For six years, no Hornets/Jazz match-up was complete without the regular debate: Chris Paul or Deron Williams? That was the case last season, but with both superstar playmakers changing locales less than one year later, tonight started a new argument: Jarrett Jack or Devin Harris?
The battle does not have nearly as much cachet, but the current point guards held their own. Jack easily won the statistical head-to-head with 27 points, 11 assists, and five rebounds, while his Jazz counterpart orchestrated a victory with heady fourth quarter defense, shooting, and passing. Harris had 19 points (including three treys) and five assists of his own.
Bench comes through: With valuable efforts from every player, Utah's bench was integral to the Jazz's second consecutive home win. Josh Howard played a solid game on both ends, finishing with 13 points. After seeing minimal playing time in the first half, swingman CJ Miles bounced back with 11 second-half points. Earl Watson was steady (seven assists) while the trio of youngsters Derrick Favors (nine points and two blocks), Enes Kanter (four points and four boards), and Alec Burks (five points and three rebounds in his first non-blowout stint of playing time) all made positive contributions.
David Smith will provide instant analysis for Deseret News' Utah Jazz coverage this season. He works for LDS Philanthropies and also blogs for the Utah Jazz 360 website. He can be reached at mechakucha1@gmail.com or on Twitter at davidjsmith1232.