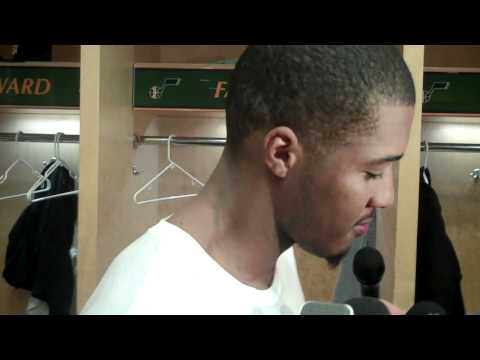 View 8 Items
Brandon Brown, Deseret News

SALT LAKE CITY — There's no place like home.
It is safe to say the young Utah Jazz team would agree.
With the Jazz still smarting from two blowout losses in Los Angeles and Denver, EnergySolutions Arena proved to be an antidote for many of Utah's ailments. In a nail-biting thriller, the Jazz earned their first victory, 102-99, over the Philadelphia 76ers Friday night.
While there were several missed opportunities down the stretch, which made it a little close for comfort, the Jazz did just enough to eke out a hard-fought win. Minus an injured Al Jefferson, the Jazz came out with a well-balanced attack, with seven players scoring between eight and 20 points.
Best quarter of the season: Hands down, the second quarter was the most complete, most impressive 12 minutes of basketball Tyrone Corbin's squad has displayed so far. It certainly didn't start out that way, though. Philadelphia darted out to a 39-26 edge two minutes in on an array of easy inside shots and smooth jumpers.
But things changed dramatically as Devin Harris propelled the Jazz to a 27-12 run to close out the half. The former all-star point guard tallied 13 points and pushed the pace of the game. The team hustled, was active on the boards, and displayed a defensive tenacity that had been sorely missing. After a torrid start, the Sixers' shooting took a big dip during the closing stages of the quarter.
Utah's ability to get to the line (11-of-12, including 6-of-6 by Harris) was another key. Paul Millsap's big trey to give the Jazz a halftime lead brought the EnergySolutions Arena crowd to its feet.
Super sophomores: The future is not the just future; it is the now, and Derrick Favors and Gordon Hayward proved it. This was capsulated by the big shots each made down the stretch and a unlikely tip in by Favors with 1:25 left followed by Hayward's clutch 17-footer 45 seconds later.
With Jefferson sitting out, Favors got the start at the center spot and played extremely well. He managed to stay out of foul trouble for the first time this young season, which enabled his 20-point, 11-rebound outing in the middle.
Not to be outdone, Hayward turned in a very efficient evening: 15 points (5-of-9 FG, 1-of-2 3-pointers, 4-of-4 FT) along with three assists and two blocked shots. He played heady defense against Philadelphia's impressive group of swingmen.
Comment on this story
Point guard play: Harris was a catalyst in the second quarter. He struggled early on and was yanked after 76er Jrue Holiday burned him for a pair of easy baskets (likewise, his body language was languid when we was summoned back in). He did not struggle long, and while he tailed off at the end, his 19 points were encouraging. His energy taking the ball to the hoop was vital.
Back-up Earl Watson, a favorite of Jazz fans, also enjoyed his best performance of the season, adding nine points and four assists. His leadership during the fourth quarter was integral toward sealing the victory.
David Smith will provide instant analysis for Deseret News' Utah Jazz coverage this season. He works for LDS Philanthropies and also blogs for the Utah Jazz 360 website. He can be reached at mechakucha1@gmail.com or on Twitter at davidjsmith1232.