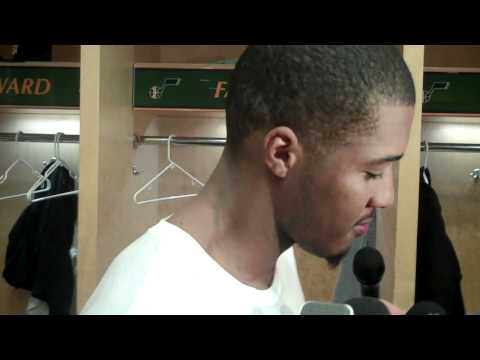 View 8 Items
Brandon Brown, Deseret News

SALT LAKE CITY — Chalk one up for the young guys.
And while you're doing that, mark a win down for the Utah Jazz.
The Jazz bounced back from a pair of rough road games to open the season with a riveting 102-99 victory over the Philadelphia 76ers Friday night in their home opener at EnergySolutions Arena.
Derrick Favors had a humongous night with 20 points and 11 rebounds after filling in for usual starting center Al Jefferson, who sat out with an inflamed right ankle.
Fellow second-year player Gordon Hayward also made a big impact in this game, hitting a clutch jumper in the final minute and scoring 15 points.
Devin Harris scored 19 points and Paul Millsap, reinserted in the first five, added a strong double-double with 14 points and 12 boards as the Jazz improved to 1-2.
Jrue Holiday led Philadelphia (1-2) with 20 points.
The Jazz were in an unfamiliar position at halftime.
They actually went to the locker room with a lead — 53-51.
Harris had 14 points at the half, including 13 in the second quarter when the Jazz rallied out of a 13-point deficit.
The Jazz also received double-digit performances from Millsap (11 points) and Favors (10) in the opening half.
Both Millsap and Favors started — Millsap because he'd been put back into the opening lineup to help Utah get off to a better start, and Favors because of Jefferson's injury.
Philly jumped out to a 29-22 edge at the end of the first quarter, and then upped its lead to as many as 13 points as the Jazz looked lost and listless.
Harris was even taken out — getting replaced by backup point Earl Watson — four minutes into the game. But the starting point guard came out with a vengeance in the second quarter.
Interestingly, Favors had eight first-quarter points on a day when he was benched and then named a starter within hours.
Rookie Enes Kanter also contributed with a strong interior defensive presence, finishing with four points and six rebounds.
C.J. Miles added 10 points, Watson scored nine and Josh Howard had eight in what was easily the Jazz's best game of the season.
The Jazz travel to San Antonio for a New Year's Eve showdown with the Spurs.
EMAIL: jody@desnews.com
TWITTER: DJJazzyJody