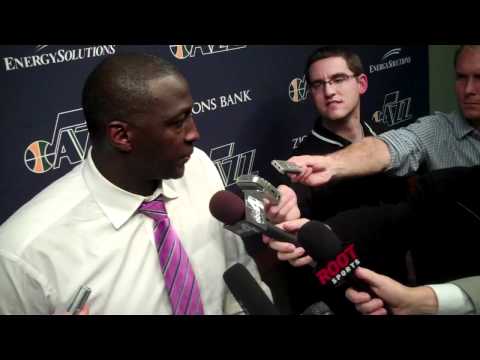 View 20 Items
Brandon Brown, Deseret News

SALT LAKE CITY — Much, much better.
Two days after they struggled and stumbled and had some fans worried they might go 0-66 this season, the Utah Jazz bounced back from their pummeling in Portland.
Heck, the Jazz were so much better in Wednesday's 92-89 exhibition win over the Trail Blazers than they were two days earlier even a charge looked like it might've been the greatest offensive foul in franchise history.
"I think we came out with a different mentality tonight," Jazz point guard Devin Harris said. "The last game we came out sluggish and slow and I thought we just (started) the game with more energy tonight."
The Jazz's 23-point turnaround verifies that claim.
Even so, Utah was far from perfect.
The offense, which struggled to 41.3 percent shooting, still needs fine-tuning.
The defense was superb in the final 36 minutes and stifled Portland into hitting just over a third of its shots, but Utah's new scheme gave up another 30-point opening quarter.
And foul problems plagued three of the Jazz's starters, with Raja Bell, Gordon Hayward and Derrick Favors all being whistled three times in the first quarter.
"We came out (and) we were aggressive," Hayward said. "We hit them first, played a lot better down the stretch. We definitely still have to improve."
The Jazz now have five days to work out some kinks before beginning the 2011-12 season Tuesday in Los Angeles against the Lakers.
In an effort to find the most effective player combinations, Jazz coach Tyrone Corbin altered the opening lineup after he was disgusted with Monday's effort.
With Paul Millsap still out with right quadriceps tendinitis, Favors got the starting nod at power forward over Mehmet Okur. And Hayward replaced Miles as a starter, with Harris, Al Jefferson and Bell rounding out the first five.
That opening unit didn't exactly click, even falling behind 28-19.
"We've got new guys and we're still trying to get to know each other," said Harris, who had 10 points, two turnovers and just one assist. "It's going to take a bit of time. "(Coach) is still trying to get the rotation, but we are moving in the right direction."
The Jazz found life off of the bench, especially from C.J. Miles in the opening half, and turned things around after the slow start.
Miles scored a team-high 17 points, including two free throws with 2.2 seconds remaining that were as clutch as preseason foul shots can be.
Jefferson rebounded from his quiet exhibition opener, notching 15 points and nine rebounds. Jeremy Evans (nine points), Josh Howard (eight points), Okur (seven points) and Jamaal Tinsley (six points, six boards and three assists) each contributed nicely in reserve roles.
"I thought everybody did a great job," Corbin said.
"That's what we're in the game to do," Evans added. "We've just got to work hard. ... And Coach has to know that he can trust us."
Speaking of Evans, the high-flying man made one of the most gravity-defying plays that didn't count.
The 6-foot-9 forward, who might have had pogo sticks surgically implanted in his legs, soared high above Gerald Wallace and slammed the ball so hard it nearly rattled the braces off his teeth.
One referee wasn't impressed. He called Evans for an offensive foul, which was received by such a loud, upset uproar by the crowd of 15,367 it might've knocked the hearing aids out of some fans' ears.
It was such a sensational slam, the video clip could possibly win the NBA Dunk Contest.
"It's amazing how the play of the year can be a preseason play," Evans' favorite alley-oop partner Earl Watson said. "That has to be top five plays of the year already. That was pretty incredible. I want to see it on film, but it was amazing."
He wasn't the only Jazz player in the locker room with that opinion.
"The stuff he can do is amazing," Hayward said of Evans. "Each time he does it, it seems like it's a shocker, but at the same time it's like, well, that's Jeremy."
Evans won't argue the other 32 Jazz fouls, but he thought this was a clean dunk.
"You've got to talk (to) the refs about that one," he said, obviously bummed it wasn't counted. "No, I didn't (charge). I feel like I'm still a young guy, so some calls won't go my way. I won't argue with them."
Offseason acquisition Raymond Felton led Portland with 17 points, while ex-Jazzman Wesley Matthews and LaMarcus Aldridge, back from a heart procedure, added 15 points apiece.
New Blazer Jamal Crawford missed an overtime-forcing 3-pointer at the buzzer.
41
comments on this story
Overall in this one, the Jazz were happy to have turned the tables on the Blazers — who are without retired guard Brandon Roy — in a 48-hour period.
It was a nice home debut for a team that's been in flux for the past 10 months.
"It was a good atmosphere," Hayward added. "We were playing hard out there and it was good that we got the win. We've got to get better defensively =85 and offensively we've got to get sharper with our cuts and our plays, but it was an improvement from the other night."
They couldn't get that one call, but they'll at least settle for that.
Email: jody@desnews.com
Twitter: DJJazzyJody