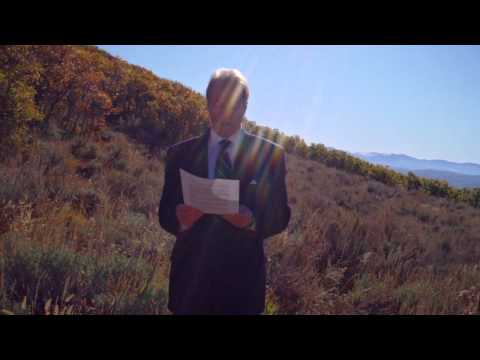 YouTube
If there is something you believe in and you can do something about it, then it's your turn to stand up and that's what I'm doing.
PARK CITY — It turns out Mitt Romney and Jon Huntsman may not be the only candidates with a Utah connection in the race for president.
Another Utahn launched his campaign earlier this month — a Park City financial adviser named David Clark.
"Tall orders I don't mind," said Clark. "I've been trying to do that my whole life. This is old hat for me."
The current life insurance salesman said he has no campaign organization yet, but he has plenty of ideas for fixing what he believes is the nation's biggest problem.
Clark, a 68-year-old transplanted from the East Coast, is a United States Army veteran and has been a stockbroker. He is the father of three adult children. He's a "serious man with a serious plan," as he explained during a public launch of his run on YouTube earlier this month.
"I'm seeking the presidency so that our ship of state can start going in the right direction," Clark said. "From my point of view, the only thing that gets done in the United States politically, is from the position of president. It either gets done or doesn't get done."
The Federal Elections Commission website reveals a parade of people, mostly unknowns, running for president — from someone named Dorothy Adams to another named William Zollinger. In all, 285 Americans have filed to run for the top seat in the U.S. government.
Clark said he has not yet filed in any state, including early 2012 primary states like New Hampshire, or in Utah, but he planned to get his FEC paperwork filed after the Thanksgiving holiday weekend. A first time candidate for office of any kind, Clark said he has raised no campaign money, has no signs, T-shirts or bumper stickers.
"I'd like to get a campaign manager, I have a guy in mind. And I'd like to get a treasurer," he said. "If I could get enough public interest here."
Clark maintains his platform is three-fold: that the U.S. needs to drastically cut health care costs, not cut Social Security payments for anyone and first and foremost, pay off the national debt. He said the economic consequences of not getting the country's fiscal house in order would be dire.
1
comment on this story
And while his own children have their doubts of dad becoming a national figure, "I think in life, you have to speak out once in a while," Clark said. "If there is something you believe in and you can do something about it, then it's your turn to stand up and that's what I'm doing."
He figures if "Joe the Plumber," who gained notoriety during the last presidential election as a symbol of the American middle class, can become a national figure, why not Utah's Clark?
"I think if I could get the message out, to pay off the national debt, which I don't think anybody has really addressed," Clark said regarding his chance at POTUS. "I think it's something everybody understands (is important)."
E-mail: jdaley@desnews.com