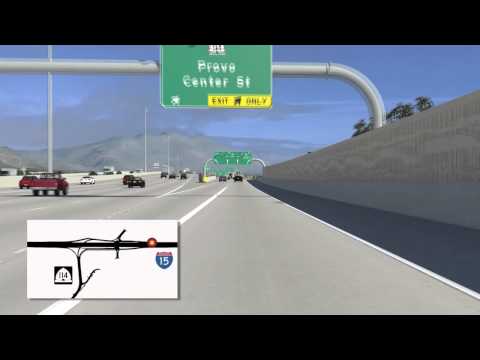 View 2 Items
YouTube

PROVO — The I-15 interchange at Center Street opened Monday, after a 90-day shutdown for reconstruction that will give motorists a whole new look designed to allow for high efficiency.
The new interchange is a complex configuration that includes new on and off ramps, an eastbound flyover bridge and new bridges over railroad tracks on the east side of the freeway.
"That's due just to the alignment of Provo Center Street to mainline I-15, because it is such a high skewed angle that you really have to try something innovative because that's something that is not typical." says Robert Stewart, Deputy Director of the I-15 Core Project.
While it will be a new look for motorists, Stewart says drivers just need to follow the signs.
"It shouldn't be tricky in that we have a lot of signs up in order to navigate the interchange," he said. "But it is radically different."
The changes will still be good news to drivers who commute to Provo.
For Kassy Carr, who drives from Spanish Fork to work at the Downtown Salon on Center Street, said getting to work will be a breeze compared to the past three months of detours.
Comment on this story
"I won't have to leave home earlier," she said. " I can stay home more with my kids and with the weather changing too, it will be a lot nicer," she says.
Next door at Modern Shoe, which has been in business since 1940, the interchange closure didn't seem affect business.
"We're a specialty shop, so we do a lot of very unique things and I think people have fought the traffic to come and see us," said shop owner Tony Thomas.
He sees the newly rebuilt interchange, the new convention center, the NuSkin expansion and future LDS temple all giving downtown Provo businesses a brighter future.