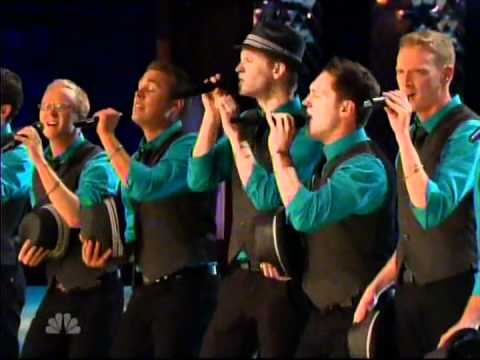 View 3 Items
YouTube

How brave you guys are to choose a song so emotional.
Singing into uncharted hip-hop territory with courage and emotion, the two groups with Mormon ties on "The Sing-Off" bested seven other a cappella groups Monday night for yet another chance to win big money and a recording contract.
The nine-man Vocal Point group from BYU and the Delilah group from Los Angeles, which includes two members of BYU's Noteworthy female a cappella group, stayed in the running despite having to sing songs they each admitted are not their strong suit.
Vocal Point, described by host Nick Lachey as the "tight-knit Provo powerhouse," sang a Puff Daddy song, "I'll Be Missing You."
Group member Ben Murphy said that because of his beliefs, he knows he'll see his recently deceased father again.
The song brought tears to the eyes of the judges and members of the audience as Murphy and the team sang with emotion and reverence, removing their straw fedoras toward the song's end.
"I applaud you for feeling the song," judge Shawn Stockman said.
"How brave you guys are to choose a song so emotional," judge Sara Bareilles added. "I appreciate how vulnerable you were willing to be."
Ben Folds, also a judge, said Vocal Point was the first group to make him cry on TV. "I was really moved," Folds said.
Delilah sang "How to Love" by Lil Wayne and again struck the emotional chord with the judges.
Stockman said it was amazing to hear an emotional rendition of a Lil Wayne song.
Folds said he recognizes the group's earlier frustration with its placement and near-elimination. "Your frustration has paid off," he said.
Bareilles said Delilah puts off a "very strong, powerful energy."
Both groups will return next week to participate in an evening of superstar medleys.
They'll compete against The Yellow Jackets from the University of Rochester; Urban Method from Denver; Afro-Blue from Washington, D.C.; the Dartmouth Aires; Pentatonix from Arlington, Texas; and each other. The Collective a cappella group from Nashville was eliminated Monday.
Ultimately, the television audience will choose the winning group, which will win a $200,000 cash prize and the opportunity to record for Sony.
Sharon Haddock is a professional writer with 30 years experience, 17 at the Deseret News. Her personal blog is at sharonhaddock.blogspot.com.
Email: [email protected]