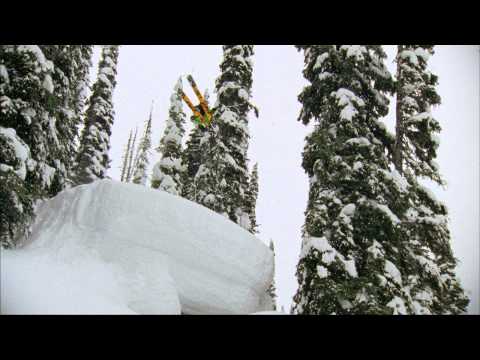 View 3 Items
YouTube

SALT LAKE CITY — In Utah, there are certain things you can always count on:
1. No matter what time of the day or the weather, somebody is always running.
2. People never remember how to drive in snow.
3. October means more than candy. It's Warren Miller time!
The 240-city tour of "Like There's No Tomorrow" made its world premiere stop last weekend in Utah. The showings of the latest Warren Miller film mark the symbolic opening of a new ski season. And the premiere screening at Abravanel Hall was to a packed house.
Skiing and snowboarding is not only a pastime but an escape from the realities of a tough economy. "No pressure" is one of this film's themes. We can put life, politics, and worries aside and allow skiing and snowboarding to continue to provide us with awe and new wonders.
When you put everything aside, release your mind and listen to your breathing as you swash over the powder ocean, you realize there is only one place to go and an infinite number of ways to get there. You realize you are the only one who can write the ending of this story.
The film is narrated by Olympic gold medalist Jonny Mosely. Shot on location across five continents, "Like There's No Tomorrow," rated PG, provides moments of escape into the beauty of the earth and athletes triumphing over Mother Nature.
"Like There's No Tomorrow" takes viewers around the world, from India to Canada to the Andes Mountains and home to Utah.
Warren Miller Entertainment brings viewers into the film by showing lines being skied that most people only dream about, made by world-class athletes, including many from Utah. Seven locals make appearances.
"We welcome winter with everything we've got," said the film's director and producer, Max Bervy. "Because, while there's always a tomorrow, there are only so many dawns with fresh snow."
If you missed the film in Salt Lake, you can view it at these other locations:
Xango Grand Theatre at the Scera in Orem, Oct. 20 at 6 p.m. and 9 p.m.
Eccles Center for the Performing Arts in Park City, Oct. 21 at 8 p.m.; Oct 22 at 6 p.m. and 9 p.m.
Peery's Egyptian Theater in Ogden, Oct. 25-27 at 7:30 p.m.
Tyler Tate is the owner of T Squared Action Sports and you can follow him at @TSquaredSports.