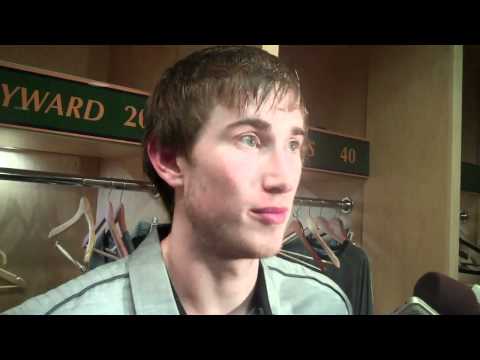 View 22 Items
Brandon Brown, Deseret News

SALT LAKE CITY — Ask NBA commissioner David Stern about the viability of small market teams and he often trots out Utah and Oklahoma City as Exhibit A. The Jazz have a loyal following that stays with the team even on bad years. Plus they have a history of success.
What they don't have is a championship trophy.
That's not likely to change anytime soon.
Then there's Oklahoma City, a small market team with a pair of superstars and eyes on an NBA championship. Hmmm … sounds familiar. In fact, it's more like the Jazz of the early 1990s than the current edition.
The upwardly mobile teams matched up Friday at EnergySolutions Arena with expected results in a 101-87 Thunder win. That gives the Thunder a 21-6 record, best in the conference. Just like the Jazz, both past and present, Oklahoma City sees itself as a blue-collar team, even though superstars Kevin Durant and Russell Westbrook are far more athletic than Karl Malone and John Stockton – or Al Jefferson and Paul Millsap.
Don't remind Thunder coach Scott Brooks, who says both teams are a work in progress.
It's not easy coaching a younger team, because everybody — including coach — wants it now, but they also have to also realize you get better one day at a time," Brooks said.
The Jazz? It's going to take more than a few days. They have now lost five of the last six and are slipping out of playoff position. Meanwhile, the Thunder continue believe a dynasty can thrive in the boonies.
"If it's not broke, don't fix it," Durant told the Sacramento Bee. "I like being here, man. I like everything about this organization and community."
Stockton-to-Malone, Westbrook-to...the rim?
Admittedly it's not an exact comparison. While Stockton spent a career occupied with getting the ball to the Mailman, Westbrook and Durant have reportedly had friction as to who should be the main scorer. But that hasn't been proven to be a big deal, as they have won eight of the last 11 and are widely being called the league's best team. There didn't appear to be any concerns on Friday.
Making noise in a small market is one thing, keeping players from leaving is another. Yet both Westbrook and Durant put their money where their mouths were when they signed contract extensions. In July 2010, Durant signed an $86 million deal to keep him in Oklahoma through 2015-16. Westbrook recently signed a five-year extension. The latter calmed rumors that the town wasn't big enough for the two All-Stars.
Like Oklahoma City, the Jazz are a feisty small market team. But unlike the Thunder, the current Jazz have no superstars — or even current All-Stars.. They actually did a good job of keeping the ball out of Durant's hands on Friday. He finished with just 10 shots totaling 19 points. But the Thunder's depth showed.
As for Stern's contention that small market teams can be viable contenders, it appeared on Friday that he has half a point. The OKC half.
For the first 24 minutes, the Jazz matched the Thunder basket-for-basket and lob-for-lob. Devin Harris and Earl Watson took turns lofting the ball to C.J. Miles for dunks. Oklahoma City had a pair of its own, punctuated by Serge Ibaka. The game remained close until three quick Jazz turnovers in the third quarter led to separation.
You could hear Thunder rolling in the distance.
Thus, yesteryear's small market darling and today's stated their cases.
Westbrook poured in 28 points, but five of the Thunder scored in double figures. The Jazz were so preoccupied with Durant that they didn't slow anyone else.
In the end, it was painfully obvious to the Jazz that while small market teams might win titles, it takes big market talent to get there.
Facebook: rockmonsterunplugged