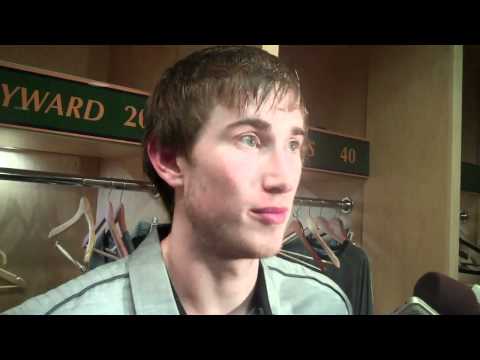 View 22 Items
Brandon Brown, Deseret News

We've overachieved as everybody would say. We wasn't suppose to be where we're at right now, but we are — so somebody's deserving to be there.

—Forward Paul Millsap
SALT LAKE CITY — Friday was Paul Millsap's birthday, and he couldn't help but be a bit disappointed about not receiving an early All-Star gift from NBA coaches.
Then again, the humble and hard-working Jazz power forward acted even more upset that teammate Al Jefferson didn't get one of the seven reserve spots.
"That's the surprising thing for me — not just myself, no one on this team (made it). Big Al deserved it," the 27-year-old Millsap said. "Somebody on this team deserved to be there to represent this team."
The Jazz figured their surprising start to the season would help either Millsap or Jefferson get an All-Star nod.
"We've overachieved as everybody would say," Millsap said at Friday's shootaround. "We wasn't suppose to be where we're at right now, but we are — so somebody's deserving to be there."
At the same time, Millsap said the players who were voted in by the West coaches were deserving, including bigs Kevin Love, LaMarcus Aldridge and Marc Gasol.
Perhaps biased, Jazz coach Tyrone Corbin thought his guys were just as deserving.
"I thought one or two or the both should really be considered for the All-Star voting," Corbin said. "I don't know where the voting ended up, but I was a little disappointed neither one of them made it."
Added Jefferson: "If it were up to me, everybody on the team would make it."
Millsap and Big Al said they would put the snub chip on their shoulder.
"If I make it, it's a wonderful thing. If I don't, just keep working hard and just keep trying to get better — use it as motivation," the eight-year veteran Jefferson said. "I've been doing it every year for the past five years so why stop now, just keep doing it."
"I would have used it as motivation either way," Millsap said. "As an All-Star, you've got to come in night-in, night-out and play as one. But I could use it as motivation, too, not getting in there. Either way, it would have motivated me."
Millsap, a second-round pick who's dealt with being underappreciated by outsiders because of his size, school or you-name-it for his whole basketball career, might not have known how to handle it had his talents been rewarded anyway.
"I've been overlooked. This ain't the first time. It's not going to be the last time," Millsap said. "I'll just continue to do what I've been doing. Things are where they are. Things happen for a reason, I believe."
BREAK-IN PERIOD: Newly acquired Jazz forward DeMarre Carroll didn't dress for Friday's game against Oklahoma City, and Corbin said it will take him a while to get into the swing of things with Utah.
The Jazz plan to bring him along slowly. Because of so many games and few practice opportunities, Carroll will learn the defensive and offensive systems through watching film, talking with coaches and players, watching games and finding spare time when available on the court.
"It's going to be difficult, but we'll try and manage it as much as we can," Corbin said. "We're excited to have him here and looking forward to finding time to get him on the floor."
Carroll, signed Thursday after being waived by Denver, wouldn't mind duplicating the out-of-nowhere situation in New York.
"Once I get the opportunity," he said, "I hope I can be like Linsanity."
The Jazz are all too aware of what that means, having given up 28 points and eight assists to breakout star Jeremy Lin in Monday's loss at Madison Square Garden.
NEW EVENT?: Jefferson teasingly told reporters he knew what question they were going to ask him at the beginning of his morning interview.
He was caught off guard when jokingly asked if he planned on participating in the slam dunk contest.
"Dunk contest?" he said, smiling. "I'll be in the layup contest or something if they have a layup contest."
Email: [email protected]
twitter: DJJazzyJody
Blog: Jazzland.blogs.deseretnews.com
jazznotebook