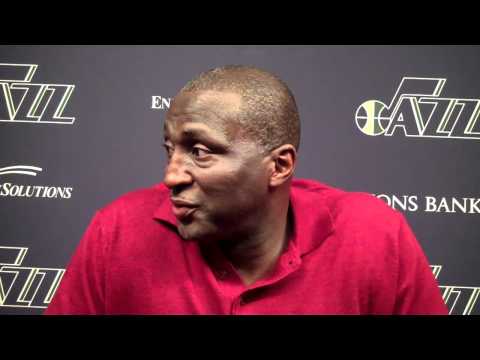 View 2 Items
Brandon Brown, Deseret News

The advantage (on the road) would be if you're winning you can bond more closely because you can really focus in on what you're doing there.

—Jazz coach Tyrone Corbin
NEW YORK — The dreaded portion of the schedule that jumps off the page — and probably draws long stares, sighs and an ability to recite flight attendant air-safety protocols — has arrived for the Utah Jazz.
The durability of their luggage won't be the only thing tested from now until the beginning of April.
Over the next 57 days, these frequent-fliers will play 22 of their next 33 games on the road. Thirteen of their next 18 are out and about, too.
Fasten your seatbelts, please.
Some bumpy air is likely.
Yet, a smooth ride could set the Jazz up for an unexpected journey into the postseason.
"The advantage (on the road) would be if you're winning you can bond more closely because you can really focus in on what you're doing there," Jazz coach Tyrone Corbin said. "But if you struggle a little bit, then (it's) going to be a little bit more difficult."
This particular road segment begins tonight at remodeled Madison Square Garden against the Knickerbockers. The Jazz then travel to Indiana on Tuesday for Gordon Hayward's homecoming before returning home for a quick pit stop against the Thunder.
Utah then gets its turn at the lockout-special back-to-back-to-back adventure, with games on consecutive nights in Memphis, New Orleans and Oklahoma City.
The road demands ease up after that with alternation home and away dates leading up to the All-Star break (Feb. 23-26), but then it gets ugly quickly — for the Jazz and their travel coordinator.
March is one of the roughest road months in franchise history, with a five-game trip from Dallas to Cleveland, Charlotte, Philadelphia and then Chicago, a three-game swing in four days (Atlanta, New Jersey and Boston) and a total of 12 contests away from EnergySolutions Arena.
Peanuts and ginger ale anyone?
How about a make-or-break opportunity?
"That's where you make your stride," Corbin said, optimistically looking at road games. "The teams on the top part of their division or conference win a huge percentage of games at home. If you can get 50 percent or better on the road, then you have a great year because of that."
Road stumbles, then, have kept the Jazz at the good-not-great level so far this season. Utah opened 0-3 outside of the Beehive State, and Corbin's crew has only won two of seven as visitors.
No other NBA team has played fewer than eight away games, with a couple having already logged 16 nights in hostile territory. Only Detroit, Washington and Charlotte (a combined 3-34) have fewer road wins than Utah.
A list of challenges exist elsewhere, especially for younger guys who tend to play better, more confidently and more comfortable at home. The feel of arenas — from hardwood floors to depth perception changes at the basket and lighting — are different. Everything from hotel beds to routines to treatment facilities change, too.
Players have to depend on their teammates and coaches for support because thousands of people around them hope they fail.
"If a team get a run, they can use their fans to propel them further. If you're getting down, you have nobody to lift you up but your teammates," Corbin said. "You have to make sure you stay together, continue to execute the things that give you a chance to win and not get into the selfish one-on-one ball."
The good news for the Jazz is that they have a full squad again. Not everybody is 100 percent healthy, but everybody is available to play after key backcourt contributors Devin Harris, Raja Bell and Earl Watson returned to the lineup Saturday.
"I'm excited to have everybody back in uniform," Corbin said. "It's hugely important for us, just who we are. We need to make sure we have all our weapons available for us to use."
That was the case against the Lakers, where Watson was especially effective in helping the Jazz get back on the winning track with a 96-87 win. C.J. Miles reiterated the importance of that springboard victory, which helped Utah snap a two-game losing streak overall and vs. L.A.
Utah did, after all, suffer its worst defeat of the season to the Lakers, 96-71 on opening night, and the powerhouse stole an overtime win at ESA in January.
"They dislike us, we dislike them. But we respect them as a good team," Miles said. "For us to get a win against them on our own floor and get the momentum, knowing what this next month is going to be like — it's big."
Now everybody sing along with Willie Nelson …
"Guys are beat up a little bit (and) the schedule's not in your favor," Corbin acknowledged. "As long as we continue to grow, play hard to give us a chance to win and we compete, we'll be OK."
That's the case whether they're at home or on the road again.
Road bumps
Category Home Away
Record 11-4 2-5
FG% .463 .428
PPG 99.0 93.7
Opp. PPG 92.9 105.0
RPG 53.8 49.6
Opp. RPG 47.7 53.1
APG 20.1 21.7
Fouls 21.1 23.9
SPG 8.0 8.1
BPG 6.3 5.9
Source: Utah Jazz
Email: [email protected]
Twitter: DJJazzyJody