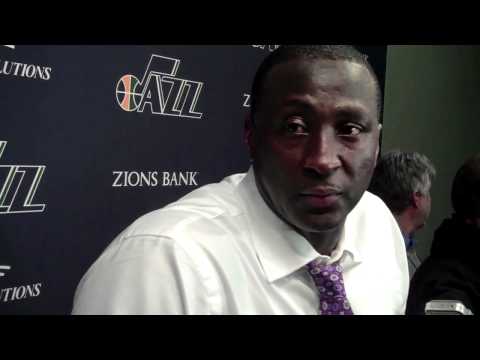 View 32 Items
Brandon Brown, Deseret News

(Paul is) just one of those guys that can make everybody on the floor better.

—C.J. Miles
SALT LAKE CITY — The dandy little guard duo of Chris Paul and Mo Williams both missed the Los Angeles Clippers' last game against the Utah Jazz a couple of weeks ago with injuries.
And the Clippers' outstanding young power forward, Blake Griffin, wound up taking a back seat that same night in his personal matchup with Utah counterpart Paul Millsap.
That contest turned out to be no-contest at all, as the Jazz manhandled the Clippers in a 29-point beatdown, 108-79.
Well, what a difference a couple of weeks — and a couple of key players — can make in a team's fortunes.
Paul and Williams were both back in the Clippers' lineup on Wednesday night, and they were extremely instrumental as that "other" team from Los Angeles grabbed a seldom-seen (as in almost never) 107-105 victory over the Jazz at EnergySolutions Arena.
Paul, who never seemed to enjoy this type of performance against Utah when Deron Williams manned the point guard position for the Jazz, poured in a game-high 34 points and handed out 11 assists. He also had five rebounds and three steals.
"He's just one of those guys that can make everybody on the floor better," Utah swingman C.J. Miles said of Paul, who was traded to the Clippers from New Orleans in a mid-December blockbuster deal after a similar trade to the L.A. Lakers was voided by the NBA. "He gets the ball in his hands. He makes the right decisions.
"When you've got a guy that can make the big shot or assist somebody up, you've got Chauncey (Billups) and Mo Williams out there making shots, too. He makes it tough on you and he showed tonight why."
Mo Williams, who was taken by Utah in the 2003 NBA Draft and spent one season with the Jazz, added 19 points off the bench, including a couple of crucial free throws with three seconds remaining that helped seal the deal.
He did, however, have to put up 18 shots from the floor.
And Griffin definitely got the better of Millsap and Co. this time around.
The 6-foot-10 beast scored 31 points and grabbed a game-high 14 rebounds, and he also blocked three shots and managed to play the final 5:54 with five personal fouls and didn't foul out.
"We just played with better intensity to start with," Griffin said of the difference between Wednesday's narrow win and the Clippers' lopsided loss here on Jan. 17. "Last game was subpar effort-wise. Today we put the effort in.
"We made a lot of mistakes, especially in the first half, but we charged back."
Griffin's huge three-point play with 22 seconds remaining proved pivotal as the Clippers snapped a streak of 16 straight losses to the Jazz at ESA.
In fact, Utah had won 38 of its last 39 games against this L.A. team here, and 47-of-50 overall dating back to the days when the Jazz were still playing their home games in the Salt Palace. The Clippers' only other win in EnergySolutions Arena occurred back in January of 2003.
"This as a pretty good win for us," said Paul. "Last time we were here they pretty much embarrassed us. I was sitting over here in a suit. The fans were on us and different things like that.
"We really wanted this game. We didn't know the history of that 1-38 (Clippers' record of futility at ESA). But it's a new team right here."
Indeed, with Paul at the controls of their offense, this Clippers ballclub — for many years one of the league's worst franchises on the court as well as in the front office — has become, believe it or not, a contender.
With Wednesday's win, that "other" L.A. franchise is 13-6 and riding high atop the Pacific Division standings in the place commonly reserved for the Lakers, who at 13-9 are looking up at the Clippers for one of the very few times in the history of the City of Angels.
The loss spoiled a 27-point, 12-rebound night by Jazz center Al Jefferson, who had missed Utah's previous game with an ailing ankle. Miles added 16 points and Millsap and Derrick Favors scored 14 points apiece.
But on this night, with Paul and Griffin making big plays on seemingly every key possession, and Mo Williams hitting big shots when the Clippers needed them most, the Jazz finally saw their SLC mastery over that "other" L.A. franchise finally come to an end.
"The Clippers are tough. Chris Paul runs their offense," said Favors. "He makes it tough on the screens. We've just got to figure out a way to stop him."
Email: [email protected]