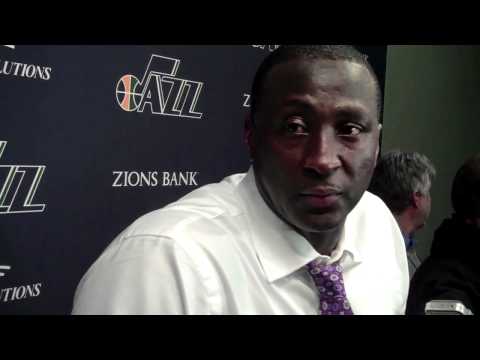 View 32 Items
Brandon Brown, Deseret News

GUARDS: It wasn't a memorable night for Devin Harris, who had eight points and four assists. He was severely outplayed by Chris Paul, who usually outplays whoever is up against him, but still. Gordon Hayward started again at shooting guard, and played his heart out. He responded well to the tough-guy antics of Mo Williams and Blake Griffin. Paul just destroyed the Jazz though, and that factors into the grade.
Grade: D
FORWARDS: Paul Millsap got in early foul trouble and was never able to get in a rhythm. His offensive foul, though questionable, with 1:28 left in the game hurt the Jazz. Josh Howard, making his second straight start, was ineffective. Blake Griffin put on a show, and the Jazz couldn't do much about it.
Grade: C-
CENTERS: Al Jefferson was Utah's best player against the Clippers. He had his eighth double-double of the season with 27 points and 12 rebounds. DeAndre Jordan had a couple of exciting dunks, but Jefferson was much more valuable to his team. Jefferson's late foul on Griffin that allowed L.A. to go up 101-96 was a bad move.
Grade: B
BENCH: Derrick Favors and C.J. Miles were Utah's most valuable reserves. Favors had 14 points, and Miles with finished with 16 points. The Jazz sorely missed Earl Watson, who had eight assists before he suffered a severely sprained ankle and left the game for good in the third quarter. The Jazz's bench outscored the Clippers' reserves 40-26, but that isn't saying much as L.A. basically went with eight players.
Grade: B-
OVERALL: The Jazz's problems with free-throw shooting and 3-point shooting reared their ugly heads against the Clippers. They also needed more from Millsap and Harris in order to beat highly hyped L.A. It just wasn't Utah's night though, and it has no time to regroup before playing Thursday night.
Grade B-