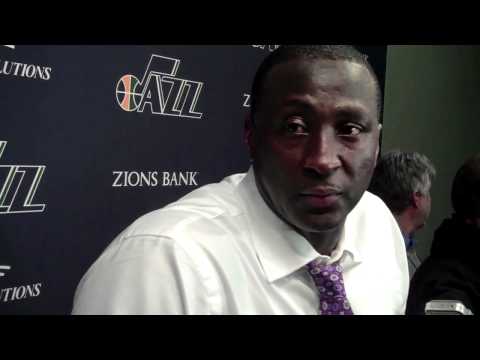 Brandon Brown, Deseret News
SALT LAKE CITY — With Rim Enemy No. 1 Blake Griffin in town, the conversation turned to — go figure — slam-dunks.
Even Josh Howard, who doesn't usually talk up opponents' highlights, was impressed by the Clipper forward's jaw-dropping throwdown on Thunder big Kendrick Perkins.
'To see (Griffin) do that, it speaks a lot about his athleticism," Howard said. "I'm sorry to Kendrick Perkins for being on the under end of it."
Howard said getting posterized is "part of the game," and his teammates agreed.
"You play the game long enough," Jazz forward Paul Millsap said, "you are going to get dunked on. It happens. That's life."
"I've been dunked on so many times, it don't really affect me no more," eight-year vet Al Jefferson said.
Millsap and Jefferson didn't recall players' posters they've ended up in, but Howard recalls getting dunked on by former Utah star Keith Van Horn in 2006.
Of course, Howard also fondly remembers putting it down on bigs Joel Przybilla and Brad Miller back in the day.
Don't expect him to get any dunk-contest consideration now.
"After I left Dallas (in 2010), I wasn't trying to dunk on nobody no more," the 31-year-old said. "I was getting a little bit older."
Asked if he'd ever slammed on anybody a la Griffin, Millsap joked, "On my trampoline. Never in real life."
Millsap and Jefferson were wowed by Griffin's airborne achievement — perhaps because it happened to somebody else. "I'm still a fan of basketball," Millsap said. "When you see things like that, it's an amazing feat."
Added Jefferson: "As a fan sitting at home watching it, I jumped out of my seat. I almost forgot I had a hurt ankle."
INJURY UPDATE: Jefferson played Wednesday after his medicine finally kicked in, allowing the inflammation and soreness to subside in his tendinitis-hampered right ankle.
Jefferson said his ankle feels "brand new," and he doesn't believe the tendinitis will bother him again if he stays on top of his meds and treatment.
As for Raja Bell, he missed his second straight game with a strained right adductor. The Jazz's usual starting shooting guard didn't travel with the team to Oakland for Thursday night's game against the Warriors. He hopes a couple of days of rest will allow him to regain full mobility after the soreness goes down.
Bell missed four games last year due to adductor strains.
"When you move laterally as much as I do and as hard as I try to do it, sometimes you tweak it," Bell said. "It's one of those things. It's not a major injury, but for the way I play it really hampers what I do."
Bell said he isn't being extra careful because of the compressed schedule.
"I would always side on the error of trying to lose less games than more," Bell said. "When it feels like I can play on it without hurting it, I'll be the first one to say I'll be ready to go."
MR. REJECTION: Six-foot-1 guard Earl Watson had his 10th block of the season Monday, and it brought back memories of swatting 7-foot-6 center Shawn Bradley's shot years ago. Read more at the Jazzland blog: jazzland.blogs.deseretnews.com.
Email: [email protected]
Twitter: DJJazzyJody