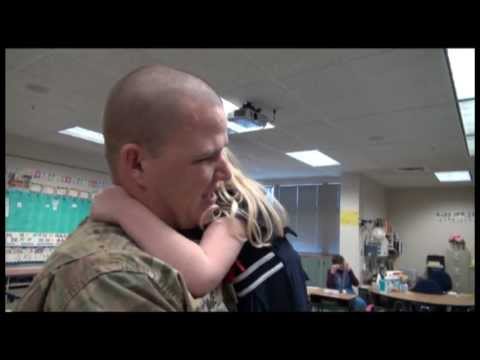 View 2 Items
YouTube

WEST VALLEY CITY — A little girl from West Valley City got a very special birthday gift Monday morning. Her father, who had previously been deployed in Afghanistan, showed up during reading time in her kindergarten classroom at Whittier Elementary.
Five-year-old Baylee was going over a poster board with pictures of things she loved, like chocolate, chocolate sundaes and hot chocolate. She also had a picture of her father, Sgt. Adam Page.
While she was talking about dad, he walked into the classroom, but she didn't see him at first. When she did, she could not hold back the tears of joy. She ran to him and gave him a big hug.
"That's my only birthday present I wanted is you," she said while wiping tears from her face.
She kept asking "How did you ever make it, Dad? How did you ever make it?"
Page has just been redeployed to Utah. He has served in the Army for seven years, and this will be the first time he has lived with his family since Baylee was born.
"I really missed you," she told him, and then hugged him again.