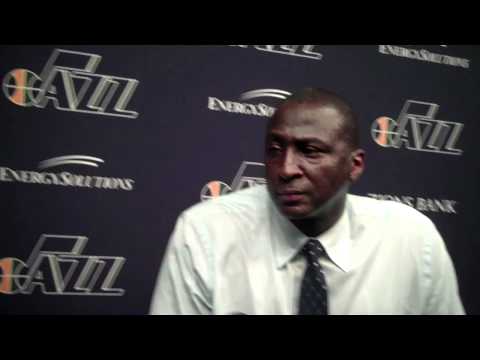 View 30 Items
Brandon Brown, Deseret News

SALT LAKE CITY — After 47 minutes and 50 seconds of loud cheers and boos from a split-personality crowd, exciting and error-filled hoops, and unexpected performances, both good and bad, the outcome of the Sacramento Kings-Utah Jazz game was up for grabs.
The underdog Kings had possession, trailing by two. The clock was ticking down. The raucous EnergySolutions Arena crowd was gasping at the scenario that had unfolded.
And suddenly, after he fought his way through a scrum, the basketball ended up in the hands of one Jimmer Fredette behind the 3-point line.
Of course it did.
What happened next riled up anti-Jimmerites who'd booed the heck out of the former BYU star every time he touched the ball all night, bummed out the Fredette fanatics who'd screamed their guts out for him, and elated fans who simply wanted the home team to win.
With the spotlight on the rookie, The Jimmer got some airtime.
Just not the kind he wanted.
Gordon Hayward hit a free throw a second after Fredette's 25-foot airball and the Jazz survived their first encounter with Jimmermania, escaping with an emotional and much-needed 96-93 victory.
"Good win for us — after last night and traveling back, it was a tough loss in Dallas," Jazz coach Tyrone Corbin said after his team snapped a two-game losing streak the day after falling apart in a 116-101 loss to the Mavericks.
"The guys, the emotion of The Jimmer coming back to Salt Lake and the excitement there — you know what, we'll take the win," Corbin added. "We didn't execute and play our best basketball, but we gutted it out and got a good win."
This was not your normal Jazz game by any stretch of the imagination.
Sure, Utah got big offensive performances from their Big Two — but the Big Two wasn't their usually reliable tandem of Paul Millsap and Al Jefferson. They combined for only 18 points on 7-for-23 shooting.
On this night, rather, the dynamic duo turned out to be Gordon Hayward (21 points) and C.J. Miles (20 points). Picking up the slack for their struggling stars, the young swingmen were instrumental in getting the Jazz (11-7) back on a winning path after tough losses to the defending NBA champs and to lowly Toronto at home Wednesday.
"It makes us a much harder team to guard," Hayward said, speaking of contributions from the Jazz wing players. "It's easy when you just throw it in the post and if they're not going then it's just like, 'What do you do then?' So it's good when we step up like that. We need to do that."
Sacramento played like the Chris Webber Era Kings, with Tyreke Evans going off for 31 points, three sidekicks scoring 14 apiece (including Fredette) and 5-foot-9 Isaiah "Spud" Thomas igniting a fourth-quarter comeback with all 13 of the visitors' total bench points coming in the final period.
The mixed-allegiance crowd was even more divided than when the Lakers bring their bandwagon into town, with some for the Jazz, some for Jimmer, some for both.
As if all that were bizarre enough, the Jazz won despite having more turnovers (17) than assists (15), being outshot (46.2 percent to 44.3 percent), and allowing the black-and-purple-clad No. 7 to get a game-winning look from his sweet spot.
"A win is a win," Miles said. "We'll take it however we can get it. We had to scrap a little bit."
OK, Cougar and Ute Jazz fans, you can go back to cheering for the same pro team again.
"I loved it. It was a great atmosphere," Jazz point guard and UCLA alum Earl Watson said. "It was like college. I thought I had on a Utah Utes jersey. It was like Utes vs. BYU. I was like, man, I'm back in college. I want a per diem check."
Corbin inserted Watson back into the game for defensive purposes after Devin Harris made one of two free throws to give the Jazz a two-point lead in the final 15 seconds.
His assignment: Jimmer.
Fredette ran through some screens and shook off Watson momentarily, but the 10-year veteran lunged toward the 2011 NCAA player of the year and long-ball expert who stumbled a bit as he retreated behind the 3-point line by the Jazz bench.
"It wasn't a clean shot," Watson said. "I had a chance to contest it pretty well and he just shot the ball over the rim, and that was pretty much it. Gutsy shot, though."
Fredette didn't complain about slight contact by the Jazz defender.
"I caught it, shot it, possibly contact, maybe not," Fredette said. "But the ball didn't go in and that's what happens. It was a tough loss for us."
For what it's worth, the Cougar legend was encouraged that the 6-14 Kings "played really well" in a sorta hostile environment. He was happy that it was only sorta hostile, too.
"It was funny because normally I'm sure they're not used to hearing cheers when someone from the other team scores," Fredette said. "It was great to hear, obviously great support here and I really appreciate all the fans who came out to support myself, but also the Kings. It was a great atmosphere."
Next Utah showing: March 30.
Twitter: DJJazzyJody