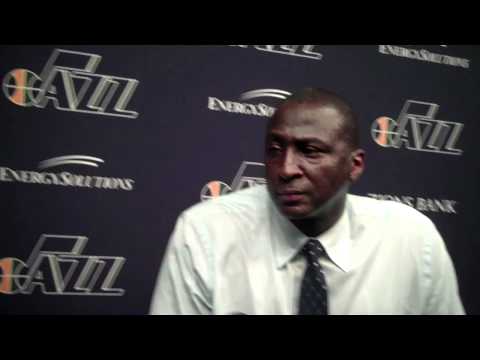 View 30 Items
Brandon Brown, Deseret News

SALT LAKE CITY — The script couldn't have been written any better — the rookie returning home to a (mostly) adoring crowd and having the final shot win the game with less than five seconds left.
The EnergySolutions crowd, which had mixed feelings, wanting the Jazz to win, but also wanting returning hero Jimmer Fredette to play well, held its collective breath as Fredette's 3-pointer from the right angle floated towards the basket.
The ball didn't even come close, drifting way left of the basket — an airball — and the Jazz corralled the rebound and held on for a 96-93 victory.
The question on everyone's minds afterward was how could Fredette have missed so badly on the final shot. Was it nerves? A foul by Earl Watson?
In his usual humble manner, Fredette said there was "possibly some contact," but when pressed about it, he wouldn't give a definitive answer.
"Uh, I'm not going to answer anything about that, but obviously, the shot didn't go in and that's all that happened," he said. "We lost the game."
On whole, Fredette's return to Utah after his all-American, college-player-of-the-year season at BYU last year was a positive one. He scored 14 points, double his season average, and sank 3-of-5 from 3-point range and nearly had the game-winning basket.
Sacramento coach Keith Smart had plenty of nice things to say about his rookie, although he wasn't sure he wanted Fredette trying a 3-pointer with so much time — five seconds — left on the clock.
"There was a lot of time on the clock and as I said to him in the locker room, sometimes you don't need the game-winner," Smart said. "Sometimes you just need a two. But hey, we've got a first-year player in a situation trying to do the right thing and it's a whole different story if he makes that shot."
With regular guard Marcus Thornton out with a leg injury, Fredette made his fifth start of the season Saturday in an arena where he had played a handful of college games for BYU.
During the pregame introductions, Fredette received a warm welcome, as much applause as a visiting player ever gets.
However, the first time he got the ball on offense, some of the crowd reacted with what sounded a bit like "shoot" or more likely "boo." It was similar to the reaction Deron Williams received a couple of weeks earlier, though not as intense. It happened every time he got the ball.
His first shot, a 3-pointer from the left angle at the 8:30 mark, was long off the back of the iron. On his next try, four minutes later, he faked Devin Harris and tried a jumper from 20 feet out and missed. Another minute later, he tried to go inside and was stuffed by Paul Millsap.
When Fredette finally scored with 1:26 left in the first quarter on a 3-pointer from the left angle, a huge cheer erupted, mostly from the fans behind the south basket.
He had his best stretch of the night over the final five minutes of the first half, when he made three straight shots, including a 3 from the top of the key. After that one, some of the fans in the south end rafters chanted "You got Jim-mered" for a few seconds.
In the third quarter, he made another 3 and a technical free throw, but also committed a couple of turnovers and got knocked down driving to the basket more than once.
"Being a rookie, you're not going to get many calls and that's just the way it goes," Fredette said. "I just tried to play through it as best I can."
7
comments on this story
Fredette didn't play in the fourth quarter until the final minute, because fellow rookie Isaiah Thomas was playing so well (13 points on 5-of-6 shooting in the quarter).
But both players were on the floor for the final seconds when the Jazz led 95-93 and Fredette had the chance to be the hero with his 25-footer.
"Hopefully I'll have a lot more and hopefully I'll make a lot of those," Fredette said. "Everybody was encouraging and said it was a good look ... but it just didn't go down. But you can't worry about it, just move forward and make the next game-winning shot."
email: sor@desnews.com