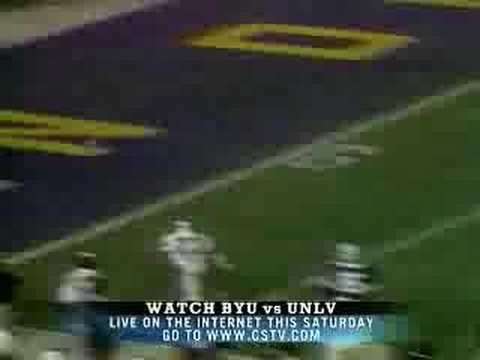 View 4 Items
YouTube

Life isn't fair.
Sometimes those with the heart, the discipline, the will and the most desire to play football aren't always blessed with the bodies, the muscles and the talent.
In a nutshell, that's the story of Mel Farr's life. And there's a movement afoot, by some very credible people, to make a short film of an event in Mel's life that made the former BYU football manager a legend, if only among the athletes and coaches.
Mel was a fixture on BYU's sidelines in the late '70s and early '80s. He was our diminutive team manager with the gigantic heart. At the 1980 Holiday Bowl, it wasn't the team captains or Jim McMahon or head coach LaVell Edwards who offered the stirring speech that led us to victory. It was actually the 5-foot-4-inch, maybe 120-pound Mel Farr. Only, he didn't speak. Well, not much anyway. He didn't throw a chair through a chalkboard or bite the head off a frog. Yet, 30 years later, what he did for 30 minutes that night in a San Diego hotel ballroom is discussed with reverence by Kyle Whittingham, LaVell Edwards, Tom Holmoe, Jim McMahon, Clay Brown and myself in this video clip.
It happened the night before the game, in a setting where team leaders offered some remarks then allowed anyone who felt compelled to speak. Sort of like testimony meeting, only not as solemn. A few guys spoke, nothing out of the ordinary and actually rather routine and boring. Then to our surprise, Mel slowly walked to the front of the room and delivered what has become the most memorable and famous pre-game speech ever given in BYU sports history. It was surprising because Mel had a speech impediment due to a childhood hearing problem that required removing his adenoids. That was just the beginning of his medical issues. He was bullied throughout his life because he walked with a limp due to a childhood disease called multiple ephiphyseal dysplasia, which affects the growth centers in the body.
His parents moved to Salt Lake City from Maryland so Mel could be treated at Primary Children's Hospital, which is where he spent most of the first grade. That experience not only affected his physical growth, but his social skills as well. Mel was the oldest of five boys, his younger brothers were all over 6 feet and excelled in football, basketball and track at Skyline High.
Mel would not be so fortunate.
As I remember it, there were a few good-natured catcalls as Mel slowly made his way to the front of the room. I was an 18-year-old freshman and thought whatever Mel had to say would be comic relief and might allow us to be a little more loose as we prepared to face the SMU Mustangs and their vaunted running attack famously dubbed "The Pony Express."
Mel struggled to get the words out. Someone from the back of the room yelled, "Spit it out, Mel!." He mumbled something about never giving up.
Then, Mel motioned for someone in the room to hand him the San Diego Yellow Pages — something kids today wouldn't be familiar with. It must've been three inches thick.
When it occurred to us that he was attempting to tear the phone book in half, we did what young 20-somethings do — we chanted Mel's name in derision and howled in laughter. Jim McMahon fanned him with his playbook and someone else wiped at his brow with a towel. No one actually thought he would do it. In fact, some of us worried he'd pass out.
But silly and corny as it sounds, the mood in the room changed. It turned from derision to flat-out admiration. That catcalls turned to cheering.
No one left the room. We were captivated by what seemed at first to be a silly, futile stunt.
And guys were yelling, "Don't give up Mel! Do it Mel! Come on Mel!" It took awhile, but at last he succeeded. Mel threw the torn pages in the air and screamed, "We can beat SMU!! NEVER GIVE UP!!" It may seem sophomoric but the elation and euphoria we felt that night had so much to do with the realization of our individual gifts in sculpted bodies, enormous physical talent and endless opportunities — yet we had just witnessed true greatness.
In the room that night were two soon-to-be Super Bowl-winning quarterbacks, an NFL and Super Bowl MVP, NFL Hall of Famer, numerous Pro Bowlers, doctors, lawyers, CEOs, teachers, school principals, broadcasters, stake presidents and bishops.
To a man, the experience moved and inspired us.
And if Scott Wilhite has his way, it will inspire you too. He's the film-maker who is attempting to make a short eight-minute movie of that event that he simply wants distributed on the Internet to a wide audience. He's written a script and will co-produce it with Mel's brother, John, who is also in the film industry and will edit the film.
"John told me about Mel's story years ago," Wilhite said. "I had other projects I was busy with but I always thought it would be a worthwhile story to tell. Even as I was working on other films, I could never get this little gem of a story out of my mind."
Film is expensive and these guys aren't Spielberg and Lucas, so they've created a website to raise the $75,000 necessary to make it. They've raised more than $15,000 but there's a Feb. 19 deadline imposed by the funding arm of the website. They hope $5 to $10 here and there is what it takes to get it done.
"For me, it's a labor of love for Mel," younger brother John told me. "If I make any money on it, it will all go to Mel to help with his ongoing medical expenses."
Melvin Bennett Farr's life accomplishments may be more worthy of film than his 30-minute stunt of over 30 years ago, given his many physical limitations. He served an honorable mission to Oakland, Calif. It took much longer than for traditional students, but Mel graduated from BYU in 1982. Mel just celebrated his 20th anniversary with his wife Melissa. They still live in Salt Lake with their son Mischa, who they adopted from Russia when he was 10 months old and was born with water on the brain. Mel works as a janitor for the LDS Church at Church headquarters in Salt Lake.
Mel was invited 10 other times by LaVell Edwards to perform his phone book stunt before big games and Mel proudly told me he was 10-1 in his career.
Mel Farr's whole life has been an example of never giving up.