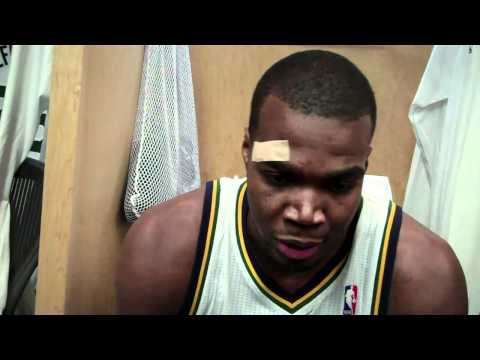 View 18 Items
Brandon Brown, Deseret News

We did a lot of good things early and then we got stagnant a little bit. ... You think it's over (after building a big early lead) and guys tend to relax a little bit, and I think we fell into that trap a little bit tonight. And then they made a run at us and they made a ballgame out of it.

—Utah coach Tyrone Corbin
SALT LAKE CITY — This was a game that the Utah Jazz surely seemed destined to win, especially when they took an imposing 18-point lead in the first quarter.
After all, this was a struggling Toronto team that isn't exactly considered an NBA powerhouse. What's more, the struggling Raptors had lost to Utah 11 times in a row coming into Wednesday's matchup.
But a not-so-funny thing happened to the Jazz on their way to another apparent ho-hum home-court triumph — they lost their early focus and intensity, lost their shooting touch and eventually, after two gut-wrenching overtimes, lost the game, too, 111-106.
With their best big man, leading scorer/rebounder Al Jefferson, sidelined with an inflamed ankle, Utah needed some other guys to come up big.
Paul Millsap and Derrick Favors heeded the call, combining forces for 47 points and 23 rebounds. And point guard Devin Harris had a season-high 24 points — 12 in the first 8 1/2 minutes — to go along with six assists, although he inexplicably missed four critical free throws in the second OT.
And then there were Utah's small forwards, who came up, well, small — very small indeed.
Gordon Hayward, Josh Howard and C.J. Miles were a combined 5-of-25 from the field — ouch! — and basically couldn't buy a basket between 'em. Hayward was 1-of-9, including an 0-for-5 night from 3-point range, while Howard went 0-for-5 from the field in a rare unproductive performance for the 6-foot-7 veteran.
And although Miles managed to score 11 points, he was just 4-of-11 from the floor.
"It's frustrating for me (because) I'm not shooting the ball well and I shoot so many in practice and I see them go in all the time," said Hayward, who did grab seven rebounds. "It's just something I'm working on and shoot it with more confidence."
Of course, it's tough to gain any confidence in your shot when you're struggling the way Hayward has. The second-year pro is now shooting just 37.6 percent (44-of-117) for the season, and only 23.1 percent (9-of-39) from beyond the arc.
Utah coach Tyrone Corbin couldn't help but feel frustrated after seeing this one slip away. And he was perplexed to see how much his bench players, normally a huge strength for his team, struggled to maintain the lead when they were inserted in the game late in the first quarter.
"I don't know if we relaxed or we didn't come with the intensity that we usually get from that group," he said. "We did a lot of good things early and then we got stagnant a little bit. ... You think it's over (after building a big early lead) and guys tend to relax a little bit, and I think we fell into that trap a little bit tonight. And then they made a run at us and they made a ballgame out of it.
"Give Toronto credit, though. They played a tough game after playing last night. ... They worked their butt off and got a win."
Corbin admitted he was surprised to see his small forward trio of Hayward, Howard and Miles all struggle so much with their shooting — especially on the same night.
"It's just one of those things," he said. "We've got to find a way to get better. We've got to keep working at it. And I don't think the three of them will have a bad night on the same night much."
Email: [email protected]