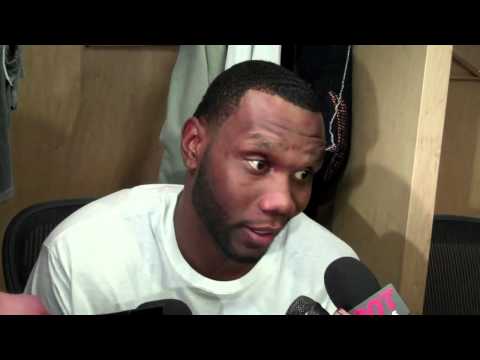 View 62 Items
Brandon Brown, Deseret News


It was a mistake, I thought. He didn't intend to throw it in the stands, but that's what the rule is. I didn't realize the fine was that extensive, but it is what it is.

—Jazz coach Tyrone Corbin
SALT LAKE CITY — Derrick Favors is learning the hard way that some actions in the NBA have costly consequences.
The second-year Utah Jazz player was ejected late in the third quarter of Thursday's 94-91 loss against Dallas after he threw a basketball.
On Saturday, the NBA threw a $25,000 fine right back at Favors for the incident.
In a statement, Stu Jackson, the NBA's executive vice president of basketball operations, announced the hefty penalty, which accompanies "throwing a ball into the spectator stands."
Whether that actually happened remains the question. A TV replay at NBA.com showed the ball was flung by Favors in an underhand motion toward the tunnel and the end of the Dallas bench. The ball didn't appear to go into the stands.
Favors admitted he lost his cool after being called for a second offensive foul.
"It was just a caught-up-in-the-moment thing," Favors said before the fine was announced.
And Favors admitted he was "surprised" by how big of a fine he incurred. His teammates were also stunned when word spread.
The 20-year-old said he'll "definitely try to fight" to get the penalty decreased, something he'll have to do with the NBA office through his agent.
"It's unfortunate," Jazz coach Tyrone Corbin said. "It was a mistake, I thought. He didn't intend to throw it in the stands, but that's what the rule is. I didn't realize the fine was that extensive, but it is what it is."
Favors said Corbin chatted with him about the NBA's rules regarding throwing the ball into the crowd. The forward said his coach also told him, "Just keep your head."
Added Favors: "The next time, I'm just going to leave everything alone. If the referee calls a foul, just walk away from it."
CHARITY CHA-CHING: Fines — which the NBA donates to charities — are starting to stack up for the Jazz.
Utah's sum total so far: $60,000.
That list includes Favors' $25,000 for tossing the ball; $25,000 for Josh Howard (flagrant penalty-2 vs. Spurs); two technicals for Earl Watson ($4,000) and a $2,000 tech apiece for Paul Millsap, Raja Bell and Corbin.
Corbin, who got his T on Saturday, doesn't want his players to get fined, but he likes his guys' feistiness.
"You want to encourage guys to play hard, and I think we play hard," Corbin said. "We're not a dirty ball club."
Corbin reiterated that he thought Howard's flagrant foul — smacking the Spurs' James Anderson in the back of the head — was "a basketball play."
INJURY UPDATE: Howard missed his fourth straight game because of strained left quad. Though pleased with his progress, he sat out Saturday's contest for precautionary purposes.
"I'm a whole lot better. I'd rather take it easy and be ready for next week," Howard said. "I feel like I'm really close. Today was the best I felt since I had the injury."
Howard expects to play Wednesday against Toronto.
LOTS OF LOVE: Jazz center Al Jefferson jokingly said he had "a little something to do" with Kevin Love's emergence in the NBA. The two bigs played together at Minnesota before Big Al was traded to Utah in 2010.
"The first time I ever met him and seen him on the court, I knew he was going to be a special player," Jefferson said of Love, who averages 24.7 points and 14.5 rebounds.
"That's why I'm not surprised at what he's doing," Big Al added. "That's why I'm not surprised he's the best power forward in the game."
Jefferson gave Love credit for his rebounding, scoring and for faithfully following through on his rookie ritual.
Jefferson smiled and said Love was the only rookie who never forgot to bring him his pregame 5-hour Energy drink.
That, by the way, is now Alec Burks' job.