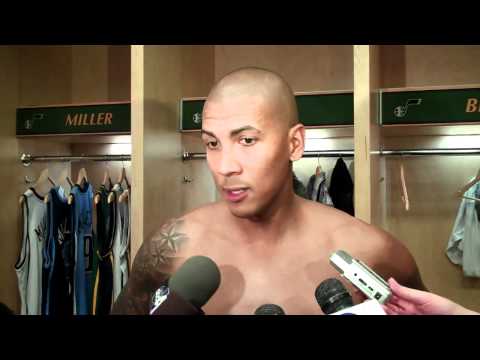 View 30 Items
Brandon Brown, Deseret News

SALT LAKE CITY — Jazz fans can breathe easier now — once they actually catch their breath.
Clearly this team is no fluke, even if they did lose.
The Jazz said nearly as much in a 94-91 loss to Dallas as if they had won, Thursday. They overcame a 13-point deficit, keeping the outcome in suspense until the final two seconds. They might chalk this one up to experience, except that they did virtually everything necessary to win, anyway.
The most crucial misses were actually launched by veterans Al Jefferson and Devin Harris.
The kids? Maybe they're too young to know what they're into. Gordon Hayward dunked with 2:46 to go, tying the game, and rookie Alec Burks played almost nine fourth-quarter minutes, more than anyone except Paul Millsap.
So go ahead and pat them on the back for turning their home court into a hard place to play once again. Applaud the fact they have young, tireless legs. Take note that they are discovering themselves faster than anyone anticipated. The outcome was only the Jazz's second home loss of the season.
They slipped behind by double digits, but as soon as things started getting out of hand, they came back. They used lots of people and showed lots of looks, even taking a three-point lead in the fourth quarter . But Jason Terry's trey put the defending NBA champs in the lead for good.
If there were any concerns about the Jazz's attitude, that was answered on Thursday. When Dirk Nowitzki swatted the ball out of Derrick Favors' hands on a change of possession, Earl Watson answered in kind. Unfortunately for the Jazz, Watson was a bit too enthusiastic, drawing a technical.
Favors drew an offensive foul moments later and responded by launching the ball into the crowd, drawing another technical.
Bad timing— the score was tied at 71.
Still, playing the defending champs down to the wire isn't exactly what the Jazz were supposed to do this early in the year – or maybe in the decade.
"Because way they work, I wasn't overly surprised," said coach Ty Corbin, "but I'm happy that there's been the growth, thanks to their hard work, and I look forward to seeing it continue."
At times the Jazz looked like champions themselves. When C.J. Miles crossed over and dunked, the crowd went bonkers. Burks and Hayward were both on the court at crunch time, both scoring points. Neither looked terribly intimidated or tense.
It scarcely resembled the team that started the year.
"You don't like losing but those first four games told us something about who we were," said Corbin.
Thursday night told him even more.
The Jazz have been nothing if not intriguing through this lockout-shortened season. When they lost three of their first four by large margins, fans seemed to accept the fact it was a young and therefore error-prone bunch.
But just as suddenly they perked up. The combination of growing familiarity, beatable opponents and a home-heavy January has helped. All that rhetoric about growing and learning must have actually been true. And while the Jazz have already played such serious teams as San Antonio, the Lakers and Denver (losing at least one to each), they hadn't met the champion Mavericks until Thursday.
Nothing grabs attention like a fight with the neighborhood tough guy.
The Jazz couldn't wait to let Dirk Nowitzki know what they thought of him in two languages. They did a fine job on him, holding him to just 12 points.. But 17 from reserved Rodrigue Beaubois made up the difference.
The Jazz may actually have done themselves a disservice by making everyone think they were years ahead of schedule. It doesn't take long to crash.
"You don't want to celebrate or think about where you're at, because you can quickly lose three or four in a row," Hayward said. "So you just try to focus on the game that's coming."
Though the Jazz are deep, they're admitting they're not invincible.
"We've got to be smarter about it," but we don't want to get pushed around by anybody," said Corbin of the Jazz's two technicals.
On this night, they didn't look intimidated in the least.
Email: [email protected]
Twitter: rockmonster
Facebook: rockmonsterunplugged