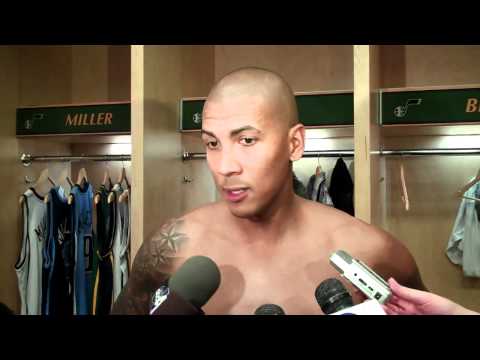 View 30 Items
Brandon Brown, Deseret News

SALT LAKE CITY — The Utah Jazz seemed to be living a charmed life.
Their early-season schedule had certainly been favorable, with nine of their last 12 games being played at home.
But the schedule-maker wasn't the only one who'd been kind to the Jazz thus far this season.
So was the "DNP" list — Did Not Play.
Yes, when it came to living a charmed life, how else would you explain the fact that several times when the Jazz took the court this season, their opponents were missing one or more of the key players from their lineup? But when the defending NBA champion Dallas Mavericks invaded EnergySolutions Arena for a late-night, nationally televised matchup on Thursday, the only key component who wasn't available for the Mavs was veteran forward Vince Carter.
And with a veteran lineup featuring savvy, longtime pros like Dirk Nowitzki, Jason Kidd, Jason Terry and Shawn Marion, who led the Mavs with 22 points, Dallas managed to deal Utah a 94-91 defeat in front of a frenzied home-court crowd that came away disappointed by the outcome, but perhaps buoyed by the team's prospects the rest of the way.
"That's a good ballclub," Utah coach Tyrone Corbin said. "They did the things they needed to win. They made the big shots and they are a good team. We put up a good fight, but came up short."
Jazz swingman C.J. Miles, a native Texan, agreed with his coach's assessment.
"With a team like that, especially a veteran team, they've got guys that know how to make plays, and they showed that tonight," he said. "They had some big buckets down the stretch, and we had a couple of times when we couldn't convert and the stress got to us."
Both of Utah's home losses thus far have been been by just three points, and they've come against two of the better teams in the Western Conference, the Mavericks and Los Angeles Lakers (in overtime).
They say that good teams make their own luck, but up until Thursday night, their opponents' "DNP" roll call had been mighty good to the Jazz.
Milwaukee starting center Andrew Bogut, the team's starting center and a former University of Utah All-American, wasn't with the team due to personal issues when the Bucks played here in early January. Starting guard Mike Dunleavy (sore groin) and reserve guard Beno Udrih (shoulder sprain) also sat out the Bucks' game against Utah.
Memphis Grizzlies' star forward Zach Randolph, an all-NBA selection last season when he averaged 20 points and 12-plus rebounds, didn't play against the Jazz after suffering a torn MCL in his right knee on New Year's Day.
Golden State starting point guard Stephen Curry, who was an absolute Jazz killer last season, was out with an injured ankle when the Jazz beat the Warriors in Oakland for their first road win.
When Deron Williams and the New Jersey Nets came to town last weekend, starting center Brook Lopez was on the shelf with a broken foot which has sidelined him all season.
And when the supposedly new-and-improved L.A. Clippers came to town, they were without injured guards Chris Paul and Mo Williams, who are averaging over 28 points and 12 assists between them. Williams, a former Jazz player, turned around the next night and poured in 26 points in a victory over Dallas.
Of course, the Jazz haven't been without their injuries, either. Starting center Al Jefferson, Utah's leading scorer and rebounder, missed the home-opener against Philadelphia with an ailing ankle, while bench sparkplug Josh Howard has missed their last three games with a strained left quad. And reserve center Derrick Favors sat out a game with a sprained ankle, too.
Thanks to a deep bench, though, the Jazz won four of those games, and almost made it 5-for-5 with a fierce second-half effort on Thursday night.
But Lady Luck and her "DNP" list finally stopped smiling on the Jazz this time around.
And when it comes to "DNP," it could also stand for Do Not Panic — advice that Jazz fans, who heard a lot of gloom-and-doom surrounding their team when the season started, should certainly heed from now on.