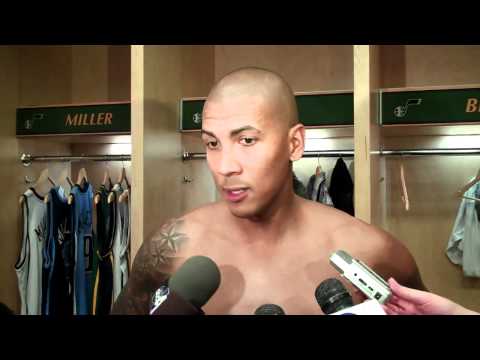 View 30 Items
Brandon Brown, Deseret News

SALT LAKE CITY — A Utah Jazz mobile app "system error" accidentally got some fans' hopes up that they'd won free tickets to Thursday's big game against the defending NBA champions.
Not all of them had.
And some of the 500 who didn't got angry about it.
The problem arose in the afternoon when a technical malfunction occurred with the third-party company that operates the Jazz's app for smart phones.
All app users — a number the Jazz declined to specify — who had entered the drawing for free tickets erroneously received a winning notification that was intended to be a reminder for the actual winners.
The resolution could help boost attendance at some Salt Lake Bees' games this spring.
All app users who entered the drawing for Jazz tickets before 2 p.m. MT Thursday will be given two tickets to a Bees game between April 1-May 15. (An email will be sent by Feb. 2 for info.)
They'll also be automatically entered into a drawing for 500 pairs of tickets for the Jimmer-Jazz game on Jan. 28.
"Our fans are of the utmost importance to us and we value their loyalty immensely," Jazz director of communications Jonathan Rinehart said. "We are certainly disappointed that this error occurred and apologize to any fans affected by this unfortunate situation. We are working hard to rectify the problem to ensure it does not happen again."
A while after the message was accidentally sent, the official Twitter account of the Utah Jazz (@utahjazz) announced the following:
"We experienced a system error, and you may have received a message indicating you have won tickets. We will have details momentarily."
Some non-winning fans felt left in the dark and jilted out of attending the TNT-televised Jazz game. Others were upset it took a couple of hours before a Facebook post and email explained the dilemma.
"This is ridiculous to get our hopes up and then completely leaving (sic) us hanging like this," Twitter user @ChaseAmes wrote.
Added @DanielTate: "No apology to us losers yet."
"Big let down after hearing I didn't actually get the Jazz tickets," @sput_nick wrote. "Bees tickets just aren't the same."
Among the 87 Facebook messages and oodles of tweets, there were fans who expressed understanding. Michael Franke jokingly called it April Fools in January.
Damon Carter wrote that he was bummed but not mad about the glitch.
"Simple mistake," he tweeted.
"Very kind gesture," @bshums chimed in.
FACING PAIN: Jamaal Tinsley found out the painful way what kind of facial gel to avoid.
"I got a haircut and they put some stuff on my face," Tinsley said, "and my face reacted off of it."
As a result, the backup Jazz point guard missed Wednesday's practice and Thursday's shootaround with dermatitis. His face swelled up, broke out into a sore, red rash that burned his skin.
Tinsley ran on a treadmill Thursday to see how his face would react to sweat, and he was made available for action.
"I'm feeling better," said Tinsley, whose cheeks remained slightly swollen and red. "It's something I know I can't put on my face anymore."
STILL OUT: Small forward Josh Howard, a former Maverick, missed his third straight game due to a strained left quadriceps muscle.
Howard described his quad as "still day-to-day but getting a lot better." He could play Saturday against Minnesota.
The 31-year-old is not too nostalgic about not being able play against the team he helped get to the NBA Finals and became an All-Star with in 2007.
He just wants to play again, something he hasn't been able to do since getting kneed in his leg Saturday.
"I'd love to play," said Howard, who leads the Jazz's bench scorers with a 10.7 average. "But my teammates got my back and they can go out there and play hard."
jazznotebook