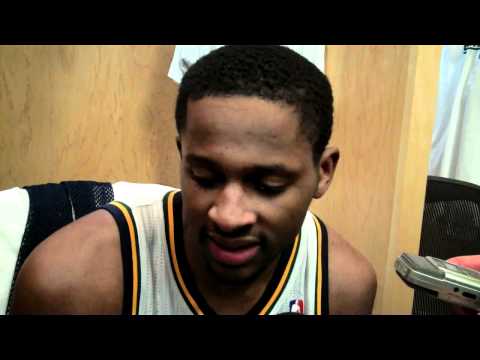 View 27 Items
Brandon Brown, Deseret News


SALT LAKE CITY — With the Los Angeles Clippers in town, alley-oops and hops were bound to, um, jump into the discussion.
But Tuesday's talk wasn't just about Blake Griffin and his freakish athleticism.
Utah has its own high-altitude hookup going on in Salt Lob City.
And, yes, Earl Watson and Jeremy Evans are the midair connection's welcoming committee.
"It swings the momentum," Watson said of lob plays. "It's only worth two points, but the effect that it has on the emotions and the energy of the game is priceless. Sometimes it just happens. It's a quick reaction."
Case in point, nobody on the Clippers saw it coming when Evans soared and slammed in quick reaction to Watson's long-distance pass during a second quarter alley-oop.
Or the second time they paired up in the second half.
Or when Evans cheated on Watson and slammed in a half-court alley-oop pass from Jamaal Tinsley.
"(It takes) a special player to read it, because it's never practiced," Watson said. "We're lucky to have a couple of guys who can go up and get it on this team."
The 6-9 Evans is Watson's favorite target, of course.
Makes sense, considering Evans has a standing vertical leap between 36-38 inches and a one-step jump in the mid-40-inch range.
Which is to say the 24-year-old can flat-out fly.
Another acceptable measurement method for Evans' launching heights?
Camaro leaping.
After watching Griffin vault himself over the Kia in last year's Slam Dunk Contest, Evans decided to go outside and see if he could spring himself over his sweet 2011 ride.
He didn't dunk over his car, but he did cleanly clear the front end — and he had extra incentive to do it.
"It's wide," Evans said, laughing. "If I didn't make it, I was going to put a dent in my car."
(Evans can jump anywhere he wants in a single bound, of course, but his Chevy Camaro has a heater.)
"It's not that wide," teammate and buddy Gordon Hayward joked from the next locker over. "I could jump over it."
Hayward quickly pumped up Evans' jumping abilities.
"I bet you could windmill over it," Hayward said, laughing.
Tinsley chimed in the pregame chatter from the other side of the locker room.
"You've got to get Jeremy in the dunk contest," he said, smiling.
There's another dunk a Jazz player wants to see happen.
Waston had a wry response when asked if he's always looking for lob possibilities.
"Yeah," he said, "but not when Al's in the game."
Watson then smiled thinking about hooking up with center Al Jefferson on an alley-oop.
"I got to talk to Al about it," Watson said, "because that would be a pretty special play for me and him to be able to connect on."
The 6-foot-10 Jefferson admitted his alley-oop days — something he claims to have done "many times back in the day" — are in the rear-view mirror. He can dunk, but lobs haven't been part of his repertoire since he tore his knee up a few years ago.
Still, Jefferson welcomes any alley-oop attempts from Watson.
"He can throw it," Jefferson said. "I'm going to catch it and come back down and ball fake, then go back up."
Email: [email protected]
twitter: DJJazzyJody