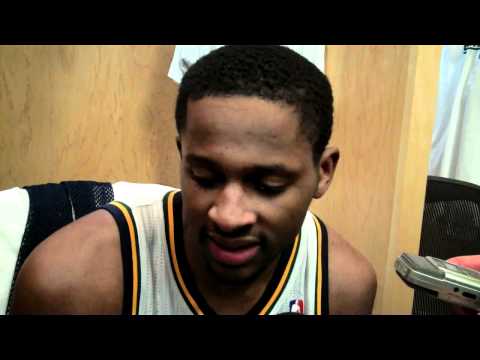 View 23 Items
Brandon Brown, Deseret News


SALT LAKE CITY — After their high-flying performance Tuesday night, the NBA team in town might consider adding some new slogans to their marketing campaign.
Utah Jazz. Life Elevated.
Salt Lob City.
Overlooked Jazz: We Fly Above The Radar.
However you brand it, the Jazz took their play to a whole new level — one that on this exciting night was even above Blake Griffin — during their wildly entertaining 108-79 victory over the Los Angeles Clippers.
Fun was the word of the night — from the dunking and dominating show the Jazz put on for the 19,371 fans at EnergySolutions Arena to postgame comments from coach Tyrone Corbin and the players in the lively locker room.
"I enjoyed watching the guys have fun do what they do," Corbin said. "They really worked together and they deserved to have some success."
Surprisingly to some, that's come in bunches lately for the Jazz, who improved to second in the Western Conference with a 9-4 record thanks to wins in eight of their past nine games.
Their defense and offense (aka Paul Millsap) against the much-improved Clippers was sharp early on, leading to an early double-digit lead (13-2) and a rout from the get-go.
"We had a good team effort (and) everybody came out with a lot of energy," said Millsap, who continued his torrid ways by scoring 10 of his game-high 20 in the first quarter. "We attacked first and we came out with the win."
Not to mention a lot of smiles for a team that has impressively won three straight and all but erased the bad memories of a lousy 1-3 start to the season.
Six Jazz players hit double figures, the team took the orange off the rim with eight highlight-reel dunks and the Griffin-led Clippers were grounded while shooting 36.5 percent.
"It's fun when everybody is out there playing hard, playing together, guys passing the ball," said Jazz small forward C.J. Miles, who came off the bench with aggression and flair while scoring a season-high 19 points. "Usually when we move the ball like that in our sets, we get good shots and we get dunks and layups. We have guys capable of finishing plays like that."
It showed.
You know things are going well for you when rarely used point guard Jamaal Tinsley pulls off a tricky behind-the-back move for a layup and hooks up with Jeremy Evans for an alley-oop from midcourt in the same quarter.
And that was just one of the many highlights from The Greatest Show Above Earth.
Traffic controllers had to clear Jeremy Evans for landing on a few possessions, which resulted in him slamming home alley-oop passes from Earl Watson (twice) and Tinsley.
"This was a fun game," Watson said. "We've got to move on past this game. This is a setup game. You win by so many, the next team you come in (and face) is ready. It's good to enjoy right now, but we have to focus and transition immediately."
That next game will be quite the challenge for the Jazz. It's a Thursday night, TNT contest against the defending NBA champion Dallas Mavericks.
The Jazz were without injured Josh Howard (quad) and Derrick Favors (ankle), but they took advantage of the Chris Paul-less Clippers. Now they can only hope they duplicate the highlights and precise execution they had in their most lopsided win of the season.
They could use another fun fast-breaking night, too.
Miles had some strong dunks and finger-roll layups on a night the Jazz outscored the quick Clippers 27-8 on fast breaks. Enes Kanter also got in the dunking excitement.
Watson, a master of alley-oop setup tosses, almost ended up with his own lob dunk from Evans in the fourth quarter. He still got a layup out of it, though.
"I wanted to dunk it, but the pass was too low. I just made the best play out of it," Watson said, smiling. "If I get a chance I'm going to dunk it. I was going to dunk it backwards. I promise I was."
Utah also dominated Los Angeles inside with 56 points in the paint compared to just 34 for the Clips.
"It was a great effort for 48 minutes. I thought our guys were focused right from the beginning of the game," Corbin said. "We continue to do what we talk about to get better. That's creating the tempo on the defensive end of the floor, active hands, guys staying in front of their man. I thought it was a great execution of the game plan."
Continued play like this will require one more possible Jazz motto.
Utah Bandwagon: Filling up fast.
Email: [email protected] DJJazzyJody