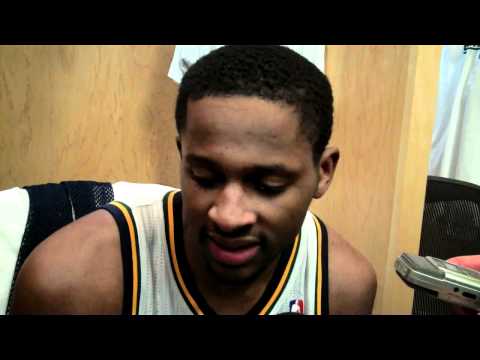 View 23 Items
Brandon Brown, Deseret News


SALT LAKE CITY — Paul Millsap picked right up where he left off on Sunday night.
And the Los Angeles Clippers' highly touted front line, much like the Denver Nuggets two nights earlier, had no answer for him.
Millsap scored 10 first-quarter points on 5-of-6 shooting to set the tone from the get-go, and the Utah power forward won his matchup with the Clippers' heralded big man Blake Griffin as the Jazz romped to a 108-79 rout of that "other" team from Los Angeles, 108-79, on Tuesday night at EnergySolutions Arena.
Millsap poured in 16 fourth-quarter points in Sunday's road win over Denver, and it was more of the same at the start of Tuesday's game as he helped get the Jazz off to a strong start and a 12-point lead after the first period.
Utah eventually led by as many as 34 points in clobbering the Clippers, who were playing the second game of a back-to-back-to-back set and simply had no solution for Utah's superior energy at ESA.
"Well, you know, my main focus coming out is to just be aggressive," Millsap said. "I knew I was going to guard Blake, so I wanted to be aggressive and make him work on the defensive end."
Millsap, who sat out the entire fourth quarter as the Jazz bench turned things into a fun-filled dunkfest for the fans, wound up with 20 points, six rebounds and a couple of steals to help Utah win for the eighth time in its last nine games, and for the 16th straight time over the Clippers in SLC.
"He's going really well, really well," Utah coach Tyrone Corbin said of Millsap, who has averaged over 20 points per game in Utah's last six outings and ranks second on the team in scoring with an average of 15.9 ppg. "You have to get him the ball in his spots, and you feel very good about it when he gets it in his spots.
"He's really smart about getting it low, seeing his matchup, and then he's a capable passer so they've got to be on his hip because he can go inside and out, and he's keeping the guys off balance."
His Clippers' counterpart, Griffin, had just 10 points — less than half the season average he brought into Tuesday's game — on 5-of-12 shooting, though he did grab a team-leading 11 rebounds before he, much like Millsap did, took a seat on the bench for the fourth quarter.
And although Millsap won this matchup against Griffin in a landslide, he's the last guy you'll ever hear tooting his own horn.
"I just did the best I could," he said humbly. "I think my teammates had my back. When he came into the lane, we had two or three guys digging the ball out, had guys blocking shots. We did a good team effort on him."
Griffin gets plenty of publicity, whether it's for being the reigning NBA Rookie of the Year, playing in the All-Star Game or winning the Slam Dunk contest on All-Star weekend, when he famously jumped up and over a car, took a pass from Baron Davis — who stuck his head out of the Kia's sunroof in time to give Griffin the ball — and threw down a two-handed jam that brought the house down.
Griffin came into Tuesday's game as one of only two NBA players averaging over 23 points and more than 11 rebounds per game — the other one is Minnesota's Kevin Love — and he was also one of only two players averaging 23-plus points and shooting over 52 percent from the field. The other one's a fella you might've heard of, a guy by the name of LeBron James.
Millsap, meanwhile, doesn't get much pub at all and shies away from the spotlight. He just goes about his business, a quiet, unassuming, soft-spoken guy who might be one the hardest-working players in the entire league.
Undersized for the power forward position at 6-foot-8, Millsap makes up for his shortcomings with great body positioning, technique, court savvy and one of those intangibles that some players often seem to lack in this league — desire.
"Defensively, Paul is always going to fight," Corbin said. "He's going to do a good job on his guy, and he's done a good job the last few games and really all season of standing between his man and the basket, with active hands, getting his hands on some balls, and he's been great for us."
email: [email protected]