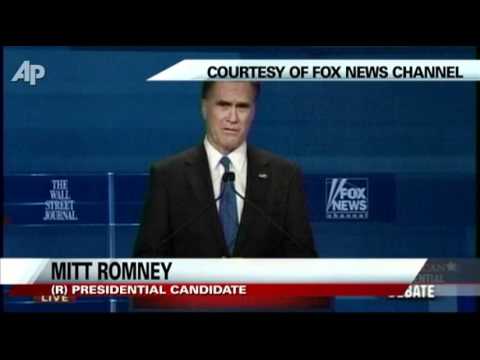 View 2 Items
YouTube

Right now it's anybody's guess what the future holds for the Republican Party and its presumptive presidential front-runner, Mitt Romney.
Nate Silver notes at the New York Times' FiveThirtyEight blog that, the average of four reputable national polls taken during the last week shows 35 percent of Republicans support Romney — more than double his nearest rivals, Newt Gingrich and Rick Santorum, who are tied for second place with 16 percent apiece.
Silver writes, "Just how safe is a 19-point lead at this point in the campaign? Based on historical precedent, it is enough to all but assure that Mr. Romney will be the Republican nominee."
Indeed, part of the reason a Romney-Obama showdown feels so inevitable is that Santorum and Gingrich continue tearing into one another — essentially preventing each other from coalescing support from the conservative right.
"Each now confronts an urgent need to get rid of the other if he is to have any hope of halting Romney's seemingly inexorable march to the nomination," Jonathan Martin reports for Politico. "And if that doesn't take place (in South Carolina), it's doubtful that it could happen in an expensive, TV-driven state such as Florida, where the next primary is held at the end of the month and neither Gingrich nor Santorum has a comparable presence."
And although Romney took some heavy shots during Monday's GOP presidential debate in South Carolina, the consensus continues to steadily build that Romney is a virtual lock to eventually win the party's nomination.
"Nothing happened on that stage that would derail Romney from winning (South Carolina) — after which there wouldn't be much need for more debates," Howard Kurtz writes for The Daily Beast.
So if Romney does indeed push forward to win the GOP nomination — what then? The right-wing, highly conservative American Thinker posits a provocative prediction in an op-ed piece by Steve McCann: win or lose, Romney's nomination would portend the end of the Republican Party.
"If Romney were to lose the election (to Pres. Barack Obama), there will be a grass-roots revolt against the Republican Party which will spell its demise. If he wins and the nation, through the misdirected policies of Romney and the Republicans in the Congress, continues on its current path of compromising and nibbling around the edges of the nation's problems, then Romney will be the last Republican president and the specter of the Democrats re-assuming power will be a reality."
EMAIL: [email protected]