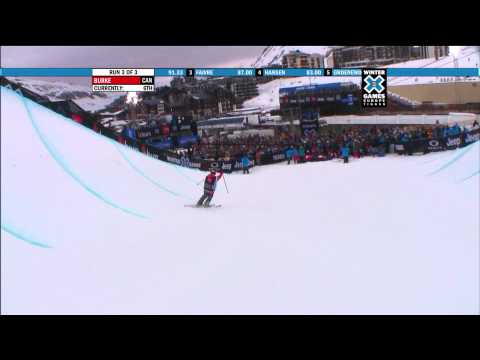 View 2 Items
X Games YouTube Channel

The family wants to express their deep appreciation for the overwhelming support Sarah has received from all over the world. They ask that everyone continue to keep Sarah and Rory in their prayers. Rory and Sarah's family remain at the hospital.

—Burke statement
A Monday morning press conference in which Sarah Burke's doctors and family members planned to talk with the media was cancelled so that doctors could conduct more neurological tests on the Canadian skier.
"Late last night, Rory Bushfield, Sarah's husband, and members of her family met with physicians to discuss the results of Sarah's most recent neurological tests and assessments," said a statement released by her publicist, Nicole Wool. "Based on the information they received, we regret to inform you that they have decided to cancel today's press conference in order for further tests to be conducted this morning and in the coming days. The family wants to express their deep appreciation for the overwhelming support Sarah has received from all over the world. They ask that everyone continue to keep Sarah and Rory in their prayers. Rory and Sarah's family remain at the hospital."
Burke was injured while training in the superpipe at Park City Mountain Resort on Jan. 10. She underwent surgery on Wednesday to repair a vertebral artery that had torn as a result of the accident, causing intracranial hemorrhaging.
Surgeons called the surgery a success but said they'd have to continue to monitor Burke's brain activity to be able to discuss any prognosis or timeline for her recovery.
Burke is considered a pioneer in her sport of ski superpipe. The sport, along with women's ski jumping, was just sanctioned by the International Olympic Committee as an Olympic event for the 2014 Winter Games in Sochi, Russia.
Burke is a member of the Canadian Ski Team and the reigning Winter X Games champion. She was preparing to defend her ski superpipe title at the Winter X Games, which begin Jan. 26 in Colorado.
Family members ask that the media continue to respect their privacy. At the family's request, there will no further updates today from Sarah's family or the hospital.
Fans may continue to express their support via Sarah's Facebook page and the hashtag #believeinsarah on Twitter.
Fellow skiers and fans from around the world have posted words of encouragement and love on Burke's Facebook page since the accident last week.
email: [email protected]