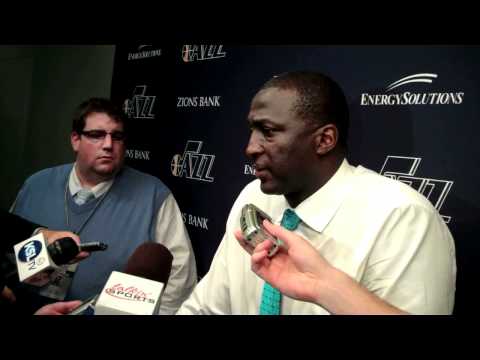 View 30 Items
Brandon Brown, Deseret News


I pretty much expected mixed reactions — I got boos, I got cheers. … If that's how people want to react, I can't control it. It didn't bother me.

—Deron Williams
SALT LAKE CITY — This was certainly not the happy "homecoming" that Deron Williams was probably hoping for, and rightfully deserved.
No, there was nothing happy about it for him at all.
In fact, the EnergySolutions Arena floor which he had proudly called his home court for five-plus seasons turned into a nightmarish House of Horrors for the former Utah Jazz point guard on Saturday night.
The man that Jazz fans once affectionately called D-Will struggled through a dreadful shooting night, was loudly booed virtually every time he touched the ball and couldn't help but feel awfully frustrated after he and his New Jersey Nets teammates got slapped by the Jazz, 107-94.
And though the ESA atmosphere was highly hostile much of the time toward Williams and most of his team, which features five former Jazzmen on its roster, he was nothing but gracious in the postgame interview outside the visitors' locker room.
"I was excited," he said. "I was definitely excited to come back here and play, and I wanted to put forth a better effort, a better game, and it didn't happen. But I'm sure I'll be back here many more times and I'll look forward to those games as well.
"I pretty much expected mixed reactions — I got boos, I got cheers. … If that's how people want to react, I can't control it. It didn't bother me."
It was Williams, a two-time All-Star selection, who emerged as the Jazz's premier player and the indisputable face of the franchise during his time in Utah, where he also did a great deal of charitable work in the community.
But he was traded away to the Nets last February, a couple of weeks after a highly publicized run-in with longtime Jazz coach Jerry Sloan, who abruptly resigned.
In his first appearance back in Utah since that trade, and just one night after pouring in 35 points with 14 assists in a road win on Friday at Phoenix, Williams sputtered through a 3-of-15 performance from the field.
He handed out five assists, turned the ball over five times and, although he finished with 16 points thanks to some 9-for-10 foul shooting, had one of the more forgettable nights of his career.
"I wish I would've played better," he said, "but that game last night (at Phoenix) took a lot out of me. … It looked like we didn't have any legs.
They looked like a fresh team, they were beating us to loose balls and getting offensive rebounds. They looked a lot more energized than we did."
And you can bet that the fiercely competitive Williams likely won't ever forget it, because he got treated the way Cavaliers fans treated LeBron James when he returned to Cleveland — the difference being that LeBron chose to leave via free agency and was viewed as a traitor, while Williams was simply traded in exchange for point guard Devin Harris, promising young big man Derrick Favors, two draft picks and $3 million cash.
It was sort of sad in a way to see the way Williams was treated Saturday, especially because of what he meant to the franchise while he was here.
Heck, with the way he was playing in a Jazz uniform, some folks figured he might certainly get his number retired someday, too, in the tradition of former Jazz greats Stockton, Malone, Hornacek, Dantley, Griffith, Eaton, et al.
"There was a lot of people cheering for me when I scored and made some plays, and I definitely had a great time here," he said with sincere fondness for Utah's fans. "It was a great point in my life. The Jazz organization gave me my first opportunity in the NBA, so I will always be grateful for them and I will always appreciate them for that."
Williams was welcomed with a chorus of boos in pregame introductions and, after exchanging fist-bumps with several familiar faces along the scorer's table, fans quickly let him know what kind of night it would be by booing him whenever he touched the ball — the type of treatment usually reserved for enemy villains like Kobe Bryant, Derek Fisher and another former Jazzman, Carlos Boozer.
After missing his first three shots from the field, he finally hit a shot with two minutes to go in the first quarter. Then on one drive to the basket in the second period, Williams missed the shot and pleaded for a foul call with referee Violet Palmer.
It was that kind of a night.
"Yeah, he was drained early in the game," Nets coach Avery Johnson said.
"They were wearing him down, they were hanging all over him, and our shots just didn't go down. He just missed a few shots, and shots didn't go down that usually do."
After the game, Williams appeared relaxed, relieved and seemed downright friendly. And he was more than willing to size up the prospects for a Jazz franchise that, now guided by head coach Tyrone Corbin, has moved on without him.
"It's working good," he said. "They have a great group in the front court, especially those two young guys (Favors and Enes Kanter) to back them up, and they're dangerous when they're playing like that. They definitely hurt us tonight.
"They have a good all-around team. I think Ty's doing a good job of getting those guys to execute the offense, and they're playing really solid defensively as well. They definitely have a lot of potential. I thought we had a lot of potential as well, we just didn't really click last year. And you could see that in another year, add some more talent, things are coming together for them. Another year under Ty, they look really good right now.
"I definitely knew he would be a good coach once he got the chance, and I wish Ty nothing but the best," Williams said of Corbin. "He's been with me my entire career, was a great assistant while I was here. I only played for him like, four games (after Sloan resigned), and I just wish nothing but the best for him."
Mighty kind words coming from a guy who definitely wasn't treated very kindly in his "homecoming" game Saturday night.
Email: [email protected]